Free Whitepaper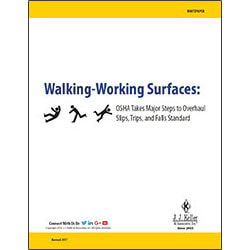 Walking-Working Surfaces: OSHA Takes Major Steps to Overhaul Slips, Trips, and Falls Standard
For years, general industry employers have sought to prevent slips, trips and falls in their workplaces. Unfortunately, Subpart D, "Walking-Working Surfaces," has provided little in the way of clear, concise requirements. This has changed, however, with the finalization of a new rule on November 18, 2016, that took major steps in overhauling the existing standard.
Written by J. J. Keller Editor Jennifer Stroschein, the free whitepaper Walking-Working Surfaces Overview summarizes the new Walking-Working Surfaces requirements, including:
Fall protection
Training
Personal protective equipment
Critical compliance dates
And more!
Fill out the form to download your FREE whitepaper - Walking-Working Surfaces: OSHA Takes Major Steps to Overhaul Slips, Trips, and Falls Standard.