Interested in learning more about this service? Call
833-708-4633

to talk with a compliance specialist today!
Non-Regulated Driver File Management Service
Maintain driver qualification files for non-CMV drivers and help reduce liability in the event of an accident.
Read more.
Keeping driver qualification files for your non-CMV drivers is a best practice that can help protect your company by showing due diligence in an accident situation or litigation.

Your compliance specialist will monitor and audit each driver's license, motor vehicle record (MVR), and MVR release consent, ensuring they are up-to-date and accurate. Your compliance specialist can also manage your company-specific policies, such as cell phone, alcohol and drug, and company car use, as well as proof of insurance.

Many clients have their J. J. Keller compliance specialist manage both their regulated CMV drivers and their non-regulated drivers, because they get full visibility to all company drivers through one service.
How The Service Works
Partnering with J. J. Keller will help you:
Assure that your drivers are driving legally
Reduce liability in the event of an accident
Help keep your insurance rates low
Centralize access to reporting for all drivers via the Client Information Center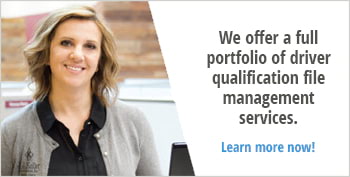 Product Questions & Answers