Interested in learning more about this service? Call
833-708-4633

to talk with a compliance specialist today!
Toxics Release Inventory (TRI Form R) Reporting Service
An Emergency Planning and Community Right-to-Know Act (EPCRA) Requirement.
Read more.
Facilities that manufacture, process or otherwise use toxic chemicals specified by EPCRA 313 must file a Toxics Release Inventory (TRI) report annually by July 1. This information supports informed decision making by industry, government, non-governmental organizations, and the public.
TRI reports were established to provide communities with information about toxic chemical releases, transfers and other waste management activities including recycling, energy recovery and treatment. TRI reporting can be known by many names, including:
Toxics Release Inventory reporting
EPCRA Section 313 reporting
SARA Section 313 reporting
Form R reporting
Form A reporting
J. J. Keller's experienced environmental consulting staff will help you easily comply with the requirements. We will verify whether you need to file a TRI report and determine the specific federal and state environmental requirements for your location(s). We will then prepare and file the toxics release inventory report quickly and accurately for you, if necessary.
Who Must File a TRI Report?
Facilities must file a TRI report annually to the EPA and designated state and/or tribe if the facility meets four criteria:
Is in a "covered sector" (defined by NAICS codes),
Has 10 or more full-time employees,
Has a TRI-listed chemical, and
The listed chemical exceeds its threshold in a given year
A facility must meet all four criteria to be applicable to toxics release inventory reporting.
TRI-Listed Chemicals
Currently there are more than 750 individual chemicals and more than 30 chemical categories on the EPA's TRI toxic chemical list. This list of chemicals can vary from year to year. In general, chemicals that are considered toxic are those that cause:
Cancer or other chronic human health effects
Significant adverse acute human health effects
Significant adverse environmental effects
Common TRI chemicals include:
Styrene
Certain Glycol Ethers
Toluene
Chromium
Copper
Manganese
Nickel
Lead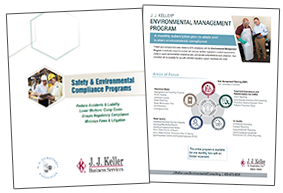 Free Environmental Services Resources
Learn more about this service to see how J. J. Keller can help protect your company, reduce your risk and improve your safety & compliance.
Product Questions & Answers