Hours of Service Management Service
ELog auditing service featuring hours of service compliance guidance with auditing for ELD and paper logbooks.
Read more.
The J. J. Keller® Hours of Service Management Service provides you with expert compliance guidance based on the rich data we aggregate from onboard technology, paper logs and time sheets.
We use a proprietary system to collect and process driver data from multiple sources – and a dedicated J. J. Keller® Client Service Specialist to interpret the data – in order to provide a holistic view of hours of service compliance and driver performance, and the guidance to improve it.
Your result is a reduced risk of noncompliance, a demonstrated commitment to safety, and a proactive approach to managing driver data. This service is the evolution of the long-standing KellerSCAN® Log Audit Service that fleets have relied on for decades.
We integrate with the following providers:
---
J. J. Keller® Encompass® Fleet Management System
Geotab (Drive and GO7 Device)
PeopleNet
PeopleNet Powervue Cadec
XRS
Omnitracs®
Xata Turnpike
Teletrac
RydeSmart Teletrac
DriverTech
Zonar ELD
Don't see your system listed here? Please contact us! We add new systems regularly.
I'd like to learn more!
Talk with a compliance specialist today at: 855-693-5338 or fill out the form and we'll get in contact with you.
How The Service Works
The J. J. Keller® Hours of Service Management Service uses proprietary technology to collect and process the constant stream of incoming driver data from any ELD, paper logs and driver time sheets. You can access the data 24/7 via our online client portal for a holistic view of Hours of Service compliance, in addition to drill-down reporting.

The service also provides you with a team of J. J. Keller® Client Service Specialists who continually analyze and audit your data to deliver:
Daily guidance for improving driver compliance and performance
Alerts of critical tasks to help establish priorities
Reports that allow you to proactively make better decisions for your fleet
Assistance in the event of a DOT audit or intervention
As an added benefit to our Hours of Service Management Service clients, J. J. Keller will process DataQ challenges on your behalf. Challenging a roadside inspection (RSI) can help improve your CSA score, but it can be time-consuming to manage and track. Our knowledgeable experts help you understand when and how to challenge a violation and what documentation helps make a challenge successful.
With the J. J. Keller® Hours of Service Management Service, you can reduce Hours of Service violations that result in fines and higher insurance rates … maximize your investment in onboard technology … cut administrative costs … and have more time to manage drivers — not data.
"Our Goal Is For You to Be 100% Compliant."
Dedicated Client Service
Your compliance is our priority. From system development to client service and audit support, your success is our success. With the assistance of your dedicated J. J. Keller® Client Service Specialist as your point of contact, you'll receive:
Personal attention to answer your questions, deliver reports and provide guidance on how to fix driver compliance and behavior issues.
Interpretation of analytics and identification of compliance gaps that could put your fleet at risk of an audit or intervention.
Assistance in the event of a DOT audit to minimize the potential impact.
Coordination with multiple contacts within your organization to address location-specific trends or violations.
Reporting to corporate contacts who need to see the big picture. Your J. J. Keller® Client Service Specialist will walk them through the findings so we can work together on areas that expose them to risk.
"Client Information Center (CIC) and Driver DataSense is a huge tool which could help many professionals with their goals."

Kellie Case, DOT Logistics Compliance Manager
Stericycle, Inc.
Reporting & Trend Analysis
With the J. J. Keller® Hours of Service Management Service, you can access our online Client Information Center (CIC), which provides a holistic view of the data we've aggregated from your drivers' ELDs, paper logs and time sheets. The CIC includes interactive reports that allow you to drill down on each data point to identify what locations or drivers need additional attention.
"We brought J. J. Keller on board to assist with reviewing, auditing and managing driver qualification files for approximately 1200 drivers. In addition, J. J. Keller audits all paper and ELD-generated Hours of Service records. J. J. Keller has provided excellent customer service and has been instrumental in helping us manage our DOT-related files and bring them into compliance."

— Bill Kaiser, Environmental Manager, Savage Services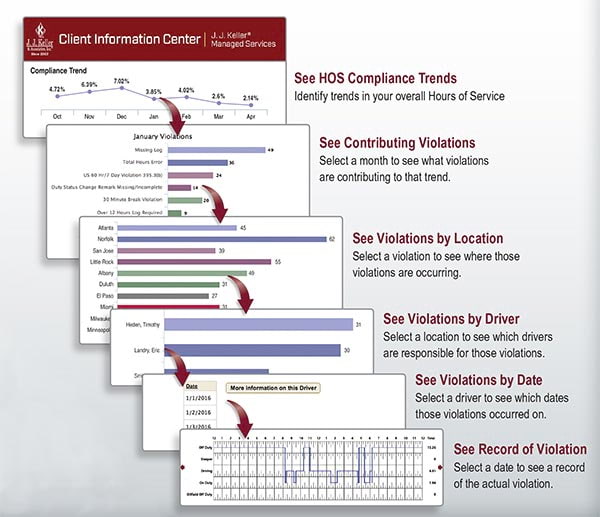 Call us toll free at 855-693-5338 for a no-obligation discussion. Or, if you prefer, fill out this form and we'll be in touch with you soon!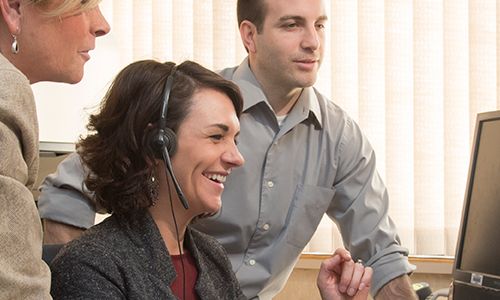 Managed Services
Let our experienced team of compliance professionals work with you to handle time-consuming compliance management for your drivers, vehicles and employees. Our specialists provide real ROI by eliminating internal costs and paying close attention to your compliance.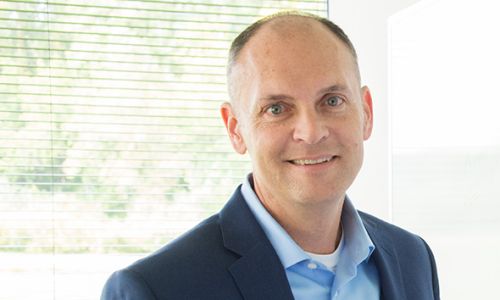 Consulting Services
Get tailored regulatory expertise at your site. Our veteran consultants bring their deep compliance and best practice knowledge to you. You can rely on our expertise in regulations enforced by DOT, OSHA, EPA, DOL and hundreds of state agencies.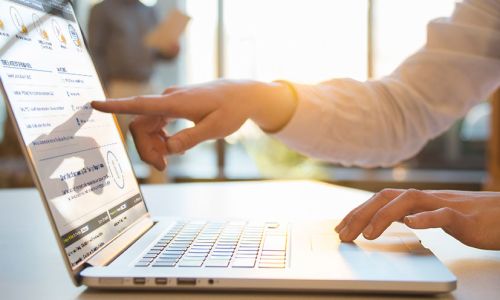 Online Services
Choose our cloud-based technology to help you manage your workplace and fleet, with anytime, anywhere access. All online services offer a dashboard and easy navigation, to keep you always abreast of regulatory compliance.
Product Questions & Answers