Interested in learning more about this service? Call
833-708-4633

to talk with a compliance specialist today!
Hazardous Materials Compliance & Safety Program
Protecting companies that handle, package, ship, receive or transport hazmat or hazardous waste.
Read more.
With this consulting service, you'll have an expert working directly with you, on-site at your facilities to build and implement a hazmat compliance program specifically for your company. Lack of a safe, compliant, and consistent program across your organization can put you at risk for an audit or litigation.

This service is designed for companies that want to:
Protect their employees and brand from fines, litigation, accidents, violations and DOT scrutiny
Have objectivity and real-life best practices
Leverage the extensive resources of J. J. Keller
Cost-effectively manage compliance
Guidance & Resources Included in the Service
On-Site Assessment
One of our compliance experts will work at your locations on a scheduled basis throughout the year to evaluate your compliance level and risk.
Classification of Hazmat Products
We'll help you identify and properly classify your products, as well as provide guidance for properly marking, labeling and packaging the products you ship.
Safety Data Sheets (SDS) Review
We'll ensure compliance with applicable transportation classification information.
Hazardous Materials Security Risk Assessment & Plan Development
We'll create a plan specific to your situation.
Audit Support
If your company is audited by the DOT, your consultant can help you through the process.
Training
We will help you identify who needs to be trained on which hazmat topics and help you ensure compliance with a combination of on-site and online training.
Policy & Procedure Development
Your compliance expert will develop, prioritize and manage company-specific policy needs.
Additional Ongoing Support
Unlimited phone and email support — Contact us at any time for help understanding hazardous materials regulations and confusing issues, or to obtain clarification from state and federal agencies.
Custom compliance & safety program development calendar — You'll receive a proactive plan to address your compliance gaps.
J. J. Keller® FleetMentor® Service subscription — Online fleet advisory tool will help you proactively manage compliance.
Discounted pricing on most of our products — Thousands of compliance & safety products available.
Program can include EPA hazardous waste/RCRA assessments, Special Permit renewals and other programs as recommended by your consultant.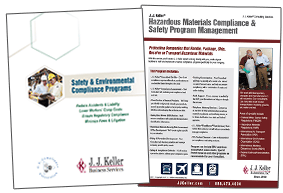 Free Consulting Services Resources
Learn more about J. J. Keller's Consulting Services, where we can help protect your company, reduce your risk and improve your safety & compliance.
Product Questions & Answers