Back to Press Releases
FOR IMMEDIATE RELEASE (March 7, 2019)
Trucker Tools, J.J. Keller Announce Strategic Partnership
Companies integrate platforms to provide freight brokers with more comprehensive shipment tracking data and driver/truck visibility; streamline and automate location reporting for drivers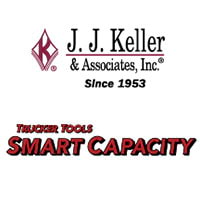 Reston, VA and Neenah, WI - Trucker Tools LLC and J.J. Keller & Associates, Inc. today announced a strategic partnership that will provide faster, more accurate and comprehensive shipment location information to freight brokers and shippers from independent truckers and fleet operators.
The companies have launched a platform integration that allows J.J. Keller® Encompass customers the option to share load-specific truck location data from their J.J. Keller electronic logging devices (ELDs) with the Trucker Tools Load Track automated shipment tracking software.
Additionally, J.J. Keller's customers will gain access to timely information about available loads from the Trucker Tools broker community via the Smart Capacity portal, or through the Trucker Tools Mobile Driver App. Both access points will enable users to quickly locate available loads from participating brokers and securely bid on them.
Trucker Tools has dozens of freight brokerage firms utilizing its Load Track automated shipment tracking software, as well as its Smart Capacity visibility, predictive freight-matching and carrier relationship management platform. The software is integrated with the GPS-enabled, smart-phone-based Trucker Tools Mobile Driver App, which has been downloaded by more than 550,000 truckers and is actively used by 110,000 small fleet operators. J.J. Keller has over 600,000 customers using its safety and regulatory compliance products and services, backed by 66 years of knowledge and expertise in the transportation market.
"Pursuing this strategic initiative with Trucker Tools allows our ELog customers the option to share their truck location data with potential brokers and 3PLs to secure available loads in a timely and accurate manner – which translates to additional revenue opportunity for them," said Tom Reader, senior director of marketing at J.J. Keller & Associates, Inc. "It's a win-win for shippers, brokers and drivers across the industry who are exploring more efficient ways to secure and move freight."
Prasad Gollapalli, founder and CEO of Trucker Tools, noted as well that integrating with J.J. Keller's ELD products deepens the pool of shipment visibility data for Trucker Tools Load Track users.
"Connecting with a proven, real-time ELD platform like J.J. Keller adds to our system another resource for in-transit shipment information, providing a more complete picture of a truck's precise location and progress to destination," he noted. "That gives our broker-customers a more accurate view of when and where trucks become available, so they can make faster, more informed decisions matching available trucks with loads. And for truck operators, it eliminates manual work such as 'check calls' into brokers; location updates are done automatically."
About Trucker Tools
Trucker Tools, based in Reston, Va., is the leading provider of trip planning, shipment visibility and freight matching solutions for the transportation industry. Its ground-breaking Smart Capacity platform uses accurate, real-time data and powerful algorithms to optimally match freight by predicting when and where capacity will become available, days in advance. The company's popular driver smartphone app has been downloaded by over 550,000 owner operators and small-carrier drivers to access information and services conveniently while on the road. Load Track is a robust feature in the app that connects drivers with carriers and freight brokers to eliminate manual check calls. Visit Trucker Tools at www.truckertools.com or contact us directly at: sales@truckertools.com
About J.J. Keller & Associates, Inc.
J. J. Keller & Associates, Inc. is the most respected name in safety and regulatory compliance. Since its beginning as a one-man consulting firm in 1953, the company has grown to over 1,400 associates serving more than 600,000 customers — including over 90% of the Fortune 1000® companies. The company's subject-matter expertise spans nearly 1,500 topics, and its diverse solutions include ELogs and mobile technology; training via online courses, streaming video or DVD; online management tools; managed services; consulting services; online and print publications; forms and supplies.
Transportation professionals rely on J. J. Keller's in-house expertise and wide selection of products and services to reduce risk and improve regulatory compliance, performance management, and operational efficiency. For more information, visit JJKeller.com. www.jjkeller.com.
For more information, contact: