State and Federal Labor Law Posters
J. J. Keller's comprehensive line of labor law posters help you meet your federal, state, local and wage order poster needs. Even better, if you order our Update Service, we guarantee your posters will always be in compliance. Any time a mandatory change occurs, free revised posters will be sent automatically.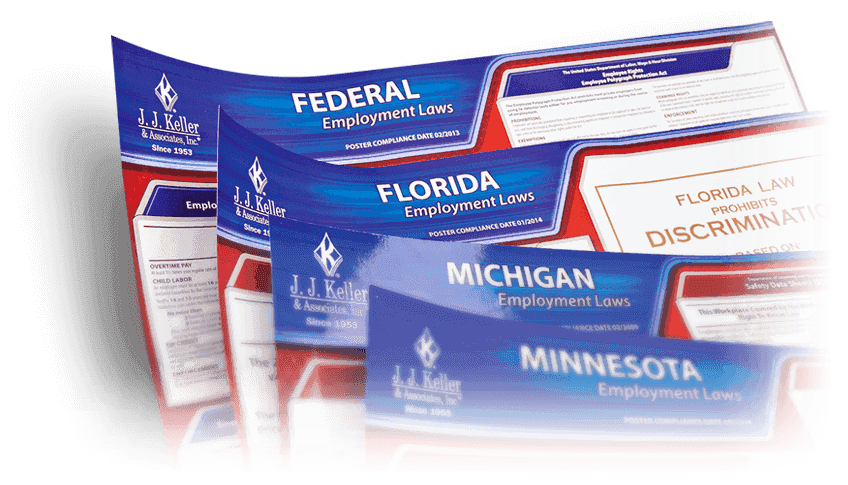 All posters are available in English and Spanish.
Labor Law Poster Resources
Free Labor Law Poster Notifications
Sign up for free federal and state LLP email notifications to make sure you are always in labor law poster compliance.
20+ states are expecting mandatory changes in early 2024. Guarantee compliance with our Update Service.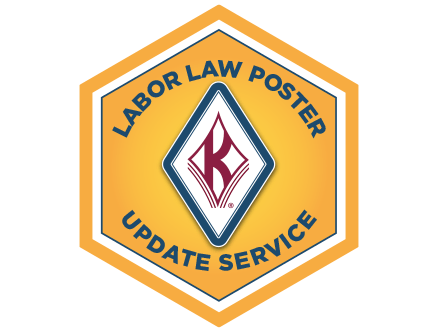 Labor Law Poster Update Service
Choose our 1-year Labor Law Poster Update Service and you'll never worry about out-of-date postings.
With our Update Service, you get:
Free Replacement Posters
We'll send you a new poster each time a mandatory change occurs at no additional cost… and you don't pay for shipping!
Guaranteed Poster Compliance
We guarantee any properly displayed J. J. Keller posters are compliant – or we'll reimburse any fines!
Check Your Poster Compliance – Quickly & Easily!
Verify your poster is in compliance with a quick scan of the QR code found on the bottom of your poster.

Or, if an 11-digit code appears on the bottom of your poster, enter below to verify compliance.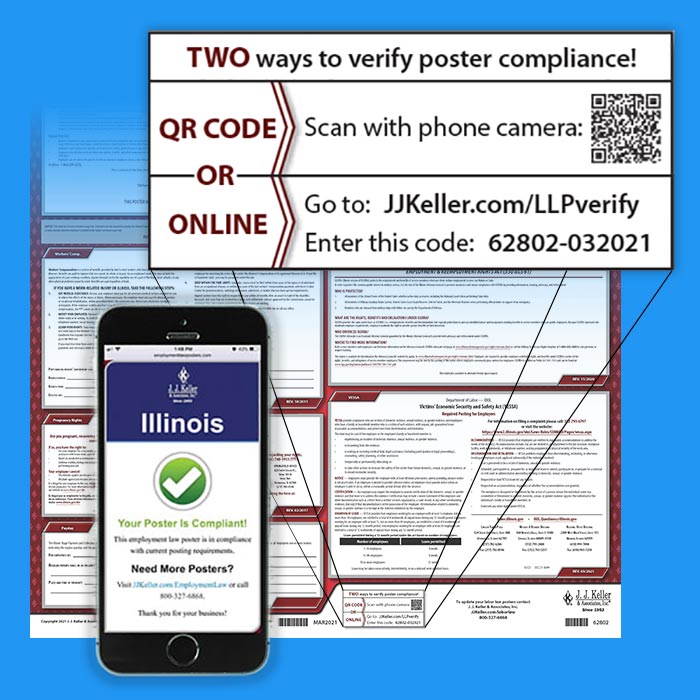 Why J. J. Keller Labor Law Posters?
Accurate Content
J. J. Keller has been a trusted source for compliance nearly 70 years, and our employment law experts are on hand to answer your specific questions.
New Posters Sent Automatically
With our Update Service, we'll send you new posters anytime there's a mandatory change. Corporate delivery to all your locations is managed professionally and efficiently.
Convenient Formats
Choices include State Only, State & Federal Poster Set, or All-In-One State & Federal Poster.
Poly Material
J. J. Keller's labor law posters are made of a durable, eco-friendly poly material that reduces impact on the environment and holds up in high traffic areas or outdoor displays.
Tabbed Formatting
Makes federal and state employment law postings easy to identify.
Posting Revision Dates
Highlighted for simple identification.
Multiple Locations?
If you operate in multiple states and/or are responsible for multiple locations, we can help all your locations stay in compliance — and receive volume discount pricing. Learn more.
En Español
All 50 states plus the District of Columbia and Puerto Rico for your Spanish-speaking employees.
Outstanding Customer Service
We'll email you and post information online when mandatory postings change, so you always know if you need to update your posters.
Customers Have Rated Our Labor Law Poster Line 4.7 Out of 5 Stars!

"I get inspected regularly by the DOL. Now they just look at my J. J. Keller posters and keep on walking."
"The subscription service saves time that can be spent on other safety issues facing our industry today."
"We are a multi-state employer that was previously using the free posters available from each state. While at no cost for the posters, it did cost considerable time and effort making sure we kept everything up to date. Now, we don't have to worry about it! If anything changes, we simply get a new set of posters from JJ Keller! With the increase in "walk-in" compliance audits, we can feel assured that our posters are always in compliance."
"I think this service is great. With the frequent changes in labor laws, it is difficult to keep up with it among all my other duties. This makes it worry free. It not only makes me aware of changes that I may have missed, but when changes are made, we are kept current and I get new posters for all 3 of our terminals. There is also a 'Certificate of Compliance' from JJ Keller that comes with it. It states that our company is making a 'good faith effort' to keep current and guarantees that if you have the most current poster up and there is an error, that fines will be reimbursed."
"Having these labor law posters from JJ Keller keep us compliant with all the regulations without having to worry about any changes or updates. When a new update or change comes out, JJ Keller lets us know and sends us our updated posters. Makes my job so easy and hassle free."
"I love this management service! I never have to worry about having updated posters since they worry about it for me. One less thing on my 'to do' list!"
"It makes my job easier knowing that the posters are accurate and I remain in compliance."
"Were it not for the Labor Law Poster program, I would be combing through dozens of states' laws, hoping & praying that I didn't miss an update on a required poster. This gives me the peace of mind that I need to know that not only did I not miss an update, but all updates will be sent out automatically by JJ Keller."
"The Labor Law poster service not only saves me time and money, I no longer have to worry about compliance. I don't have to follow updates to learn where the changes are in the system, because once the changes have been finalized, the service promptly sends me the updated posters to inform my associates. I don't have to search the government websites to find the latest versions either. With all the changes and compliance issues in process at this time, it is comforting to know that I can count on this service."
"I do so appreciate this service. It makes it so easy to keep the posters current and in compliance with Federal and State posting laws. It is often a daunting task to ensure that you have the latest information posted, but the Management Service takes the guess work out of it. For a minimal fee, you can rest assured that your business is posting all the appropriate postings. I plan to continue my subscriptions!"
"Having the labor law posters sent to us whenever there has been a change to a labor law keeps us in compliance without having to worry about calling to order new posters."
"I know I can count on the federal and state labor law posters from JJ Keller to be up-to-date and easy to read!"
Shop Our Most Popular Labor Law Poster Products Now!