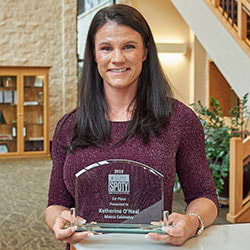 Katherine O'Neal
2019 Safety Professional of the Year
J. J. Keller & Associates, Inc. has named Katherine O'Neal, EHS Advisor for Masco Cabinetry in Duncanville, Texas, as the first-place winner of the 2019 Safety Professional of the Year (SPOTY) Awards.
In the 2.5 years since O'Neal joined Masco Cabinetry, she has led the Duncanville site to have the lowest safety incident rate and cost in the Masco organization. In 2018 and currently, the Duncanville site has had zero lost-time incidents. With strong executive leadership support, O'Neal has been able to implement safety innovations to create a model for other organizations, including changes such as having a Doctor of Physical Therapy on site to proactively make ergonomic and job improvements, and installing engineering controls leading to decibel reduction and allowing more than 200 employees to be removed from hearing conservation requirements.
Masco Cabinetry is part of the Masco Corporation (NYSE: MAS) family of companies, one of the world's largest manufacturers of products for the home improvement and new home construction markets, including brands KraftMaid®, Merillat® and Quality Cabinets®.
"I knew I wanted to pursue a career in Environmental Health & Safety since I was nine years old," said O'Neal. "My cousin … died as a result of a chemical exposure in the local drinking water supply. My father was involved in a major mine explosion on the job, that killed two of his coworkers. I thought I wanted to be an attorney, but these life-changing events changed my purpose. As an attorney, I knew I would forever be left trying to change the system after something bad had already happened. I realized a better way would be a career in Environmental Health & Safety, where I could proactively prevent tragedies like these from happening to anyone else."
Second- and Third-Place SPOTY Awards
Chris Seider, Senior Safety & Risk Management Specialist with Foth, Green Bay, Wisconsin. Seider earned the second-place SPOTY award from J.J. Keller for his accomplishments in weaving safety into the fabric of the company at all levels, his innovative spirit in fully integrating drones into the company's safety program, and an approach of personally connecting with employees on safety. Since 2016, Seider has managed his team to 0 days away, restricted duty or job transfers. For 11 consecutive years, he has led his team with a Total Recordable Incident Rate below the industry average. Foth is a science and engineering consulting firm that delivers technical solutions for public and private clients around the globe.
Jessica Flores, Safety Manager, Gainsborough Waste/Texas Outhouse, Gainsborough, Texas. Flores received the third-place SPOTY award. Beginning her career in the customer service industry and then logistics, Flores became intrigued by the safety element of how organizations operate and moved into safety management. Despite the challenge of having to master both OSHA and DOT safety knowledge, she accomplished a lot in a short time, expanding the framework for the Gainsborough Waste/Texas Outhouse program in only 9 months, including an innovative safety training lab, and Gainsborough Waste/Texas Outhouse began seeing results almost immediately.
The Essence of the SPOTY Awards: Ensuring Employees Make It Home to Their Families
"We received many outstanding nominations for the SPOTY Awards. But our three winners rose to the top due to their remarkable commitment to workplace safety and also their vision and innovative approach to safety" said Rustin Keller, president and CEO of J.J. Keller. "Ensuring employees make it home to their families every day is what J.J. Keller helps our customer companies do, and it is what these winners are doing."
O'Neal, Seider and Flores will be recognized during a ceremony on the J.J. Keller Corporate Campus in Neenah, Wisconsin, on October 28, 2019. Each winner will receive a cash prize, plaque, certificate and complimentary subscription to the KellerOnline® Safety Management Tool.
Since 2002, the J.J. Keller SPOTY Award program has recognized safety professionals, awarding approximately $225,000 in cash and prizes through the program.
Back to SPOTY Award Winners Page