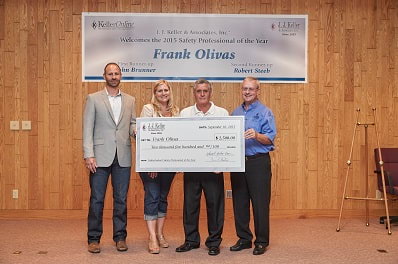 Frank Olivas
2015 Safety Professional of the Year
Frank Olivas, safety director at PRIDE Industries of Roseville, Calif., has earned the 2015 Safety Professional Of The Year (SPOTY) award from J. J. Keller & Associates, Inc.
In a ceremony held September 10 at J. J. Keller, Olivas talked about how he and his safety team have reduced the company's accident rate (number of OSHA recordable injuries x 200,000/man hours worked) at PRIDE to just 1.6, well below the industry average of 3.9. He also explained how he overcame the challenge of communicating with employees with disabilities and Spanish-speaking employees.
"We don't have a safety program, we have a safety process," said Olivas. "It is ongoing and not intended to end."
Olivas went on to thank the company for the award. He also said that J. J. Keller employees should be proud of the work they do in helping to keep workers safe. "People are going home to their families today because of J. J. Keller."
John Brunner, health and safety manager at Essentra Specialty Tapes in Forest Park, IL, earned a second-place SPOTY award. Brunner employs the behavior-based S.T.E.P. (Stop, Think, Examine, Proceed) program to involve employees in identifying hazards and preventive measures.
Robert Steeb, safety manager for Sargento Foods, Inc. in Plymouth, WI, received the third-place SPOTY award. Steeb implemented the Nobody Falls Campaign to increase awareness of slips, trips and falls. The campaign included online articles, pamphlets, posters, and an engaging video to educate employees on how to prevent these types of accidents.
"We're honored to recognize these three individuals for their dedication to safety," said J. J. Keller Executive Vice President & COO Rustin Keller. "They are making a real difference in helping to keep employees safe."
Each winner received a cash prize, plaque, certificate, and complimentary KellerOnline® subscriptions.
Since 2002, J. J. Keller has recognized industry professionals who have demonstrated unique, engaging and effective approaches to their safety programs, awarding over $150,000 in cash and prizes through the SPOTY award program.
Back to SPOTY Award Winners Page