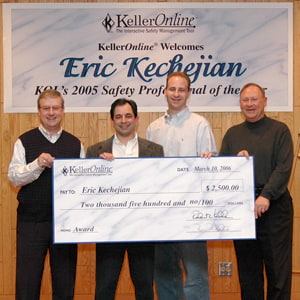 Eric Kechejian
2005 Safety Professional of the Year
J. J. Keller & Associates, Inc. honored Eric Kechejian, Safety Director at Tilcon New York, Inc., as the 2005 KellerOnline® (KOL) Safety Professional of the Year (SPOTY), at a ceremony held at Keller headquarters on March 10, 2006. The SPOTY Award, initiated in 2002, is sponsored by KOL, the most widely used safety management tool in the industry. The Award program recognizes three individuals each year for their accomplishments in the safety industry.
Kechejian received first place for his innovative contributions to safety at Tilcon New York, Inc., a mining, asphalt, recycling and road construction company located in West Nyack, New York. One of his projects involved constructing a hazard recognition training "plant." Employees walk through the mock plant, noting all hazards they find (150 total). Kechejian also implemented a risk-reduction program called SAFE (Stop, Analyze, Follow safe procedures, and Evaluate the risk). The program teaches employees a simple process in risk analysis with a SAFE risk card booklet that contains 50 risk forms for employees to complete.
Kechejian continues to address the challenge of building a safety culture amid a fast-growing employee base with diverse backgrounds and safety philosophies. To that end, Kechejian encourages employees to take ownership of safety. "It's only smart business to work safely," Kechejian said. "I look forward to the day when a stranger can approach any one of our 1,650 employees and ask who is in charge of safety, and they respond 'I am in charge of safety'."
J. J. Keller Safety Professional of the Year AwardKechejian received a $2,500 cash award during a special ceremony held at J. J. Keller, along with a plaque, certificate, and one year's use of KellerOnline® for himself and his staff.
Ken Vandenberghe, of Rea Magnet Wire, Fort Wayne, Indiana, was awarded second place. He received a $500 cash award, a plaque, a certificate and a one-year subscription to KOL. Since accepting the Corporate Health and Safety Manager position at Rea Magnet Wire in 2003, Vandenberghe has initiated changes that have resulted in a corporate injury rate decrease from 12.2 to 3.2.
Mitchell Gertz of TEVA Pharmaceutical Industries, LTD, in North Wales, Pennsylvania, was awarded third place. He received a $50 cash award, a plaque, a certificate and a one-year subscription to KOL.
Applications for the 2006 KOL Safety Professional of the Year are currently being accepted. To participate, entrants must be registered users of KellerOnline®. No purchase is necessary to become a registered user. Individuals can become registered users by signing up for a 30-day "no obligation" free trial of the service at www.kelleronline.com. Entries can be submitted using the online entry form.
About Tilcon New York, Inc.
Tilcon New York, Inc., a division of Oldcastle Materials, serves New York City, lower Hudson Valley, Long Island, central and northern New Jersey and eastern Pennsylvania with stone quarries, asphalt sites, recycling plants, a soil remediation facility, highway construction and paving services division and six marine facilities with a fleet of over 225 barges supplying customers and terminals. Over 1,650 employees provide millions of tons of crushed stone, sand and gravel, asphalt and recycled materials to the company's markets. In addition, its construction division specializes in asphalt paving, grading, milling, heavy construction and general site work.
About J. J. Keller
J. J. Keller & Associates, Inc. was established in 1953 and has become the nation's leader in safety, risk and regulatory management solutions. The company employs nearly 1,200 associates and serves over 300,000 customers including more than 90% of the Fortune 500. Keller's diverse product line includes publications, consulting, online services, and outsourced services. For more information go to www.jjkeller.com.
Back to SPOTY Award Winners Page