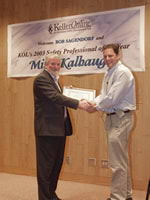 Mike Kalbaugh
2003 Safety Professional of the Year
J. J. Keller & Associates, Inc. recently honored Mike Kalbaugh, of Greensboro, North Carolina, as the 2003 KellerOnline® (KOL) Safety Professional of the Year. The award is sponsored by KOL, the interactive online safety tool that helps safety professionals manage their safety process.
Kalbaugh was chosen out of over 150 finalists to receive the award. He is an EH&S manager for a large division of Avery Dennison Corporation, managing six facilities and 900 employees. He was selected for having the most well-connected, results-driven process for managing safety, with achievements in ergonomic intervention, behavior-based safety, management training and employee participation programs. His winning program netted him $2,500, a plaque and a free one-year subscription to Keller Online.
2003 KellerOnline® (KOL) Safety Professional of the Year AwardKalbaugh attributes his program's success to management training, safety training management, employee refresher training and involvement.
"One person can't do it alone. It's a 'WE' concept. KellerOnline® is part of that 'WE,' with its safety talks, employee training and information."
Bob Sagendorf, runner-up for the award, also attended the award ceremony. He received $500, a plaque and a free one-year subscription to KellerOnline®.
Sagendorf is the corporate safety director of Schoonover Electric in Mountainside, New Jersey. His safety program's success includes incident reduction as well as training and safety program development.
Sagendorf attributes his program's success to building trust among employees, developing a safety culture, and providing training and employee incentives. He also credits the company's 3-tiered safety approach, which includes communicating with clients and construction managers about safety, as well as site-specific training for each job.
Mike Kalbaugh, 2003 KellerOnline® Safety Professional of the Year Award Winner"We really care about our employees, Sagendorf said. "They have the ability to shut down a job at any time due to unsafe work activity or conditions."
Michael Honeywell, who manages the marketing activities for KOL, said of the winners: "They have different approaches to managing safety, but there is a common theme: they are driven by a desire to get results and to make sure that everyone who comes to work goes home safely."
Terrence Quirk, Keller's Sr. Vice President of Publications & Products, had similar words of praise for Kalbaugh and Sagendorf.
"The safety management contributions of Mike and Bob are immeasurable in terms of saving lives and costs, and contributing to the end result," Quirk said. "They are the true safety professionals who are out there every day preventing injuries and saving lives."
Back to SPOTY Award Winners Page