Back to Press Releases
FOR IMMEDIATE RELEASE (March 11, 2021)
Small Fleets & Big Fines - The Trend In FMCSA Off-Site Enforcement
J. J. Keller Reviews 2020 Off-Site Audits Data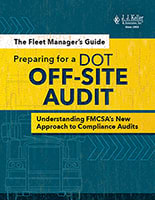 Neenah, Wis. — According to 2020 government data, off-site audits grew dramatically — 320 percent over 2019 off-site audits, representing 50.3 percent of all audits performed — according to Daren Hansen, J. J. Keller & Associates, Inc. Senior Editor for Transportation. He attributes the growth to the COVID-19 pandemic and the Federal Motor Carrier Safety Administration's (FMCSA) use of CSA BASIC scores to uncover non-compliant carriers.
Hansen shared the results of his analysis of new and ongoing enforcement trends in a recent blog post. Noteworthy enforcement trends that all fleets should consider include:
Small fleet focus (82% of audited carriers had 20 or fewer power units)
More failed audits (31% of carriers received a "Satisfactory" rating, compared to 40% in 2017)
Average settlement up 65% ($11,000 in 2020 per carrier versus $6,650 in 2019)
Hansen also provides practical guidance on preparing fleets for 2021 enforcement activities, including areas to focus compliance efforts and understanding FMCSA priorities. "Today's brand of off-site audits from FMCSA is nothing to fear if you're prepared. Documentation is king. This means having all required documents in electronic format, organized, and ready to go, including driver qualification, hours of service, and vehicle files."
Tom Reader, J. J. Keller Sr. Director of Marketing, goes a step further. "Electronic recordkeeping not only proves your compliance efforts to FMCSA and litigators. It also provides quick access to records and data that are essential for maintaining a competitive edge in the industry."
Request your copy of the Fleet Manager's Guide: Preparing for a DOT Off-Site Audit. The 28-page guide includes an assessment tool and guidance on how to submit records electronically. J. J. Keller® Encompass® Fleet Management can also help you prepare for off-site audits with paperless online storage and organization of all your DOT records. Call 855.693.5338 to talk with a compliance specialist or visit J. J. KellerEncompass.com.
About J. J. Keller & Associates, Inc.
J. J. Keller & Associates, Inc. is the most respected name in safety and regulatory compliance. Since its beginning as a one-man consulting firm in 1953, the company has grown to over 1,500 associates serving more than 500,000 customers — including over 90% of the Fortune 1000® companies. The company's subject-matter expertise spans nearly 1,500 topics, and its diverse solutions include ELogs and mobile technology; training via online courses, streaming video or DVD; online management tools; managed services; consulting services; online and print publications; forms and supplies.
Transportation professionals rely on J. J. Keller's in-house expertise and wide selection of products and services to reduce risk and improve regulatory compliance, performance management, and operational efficiency. For more information, visit JJKeller.com.
For more information, contact:
Susan Baranczyk
J. J. Keller & Associates, Inc.
1-920-727-7391
Email: sbaranczyk@jjkeller.com