OSHA Compliance for General Industry Manual -
Free!
A $260 value absolutely free!
The newly updated, comprehensive OSHA Compliance for General Industry Manual provides you with easy-to-understand explanations of OSHA's workplace safety regulations.
---
Helps you understand important OSHA information and compliance issues:
Newly updated with applicable charts, graphics and images for improved aesthetics and greater understanding of the topics
Offers ezExplanations™ summaries of workplace safety regulations and answers to OSHA compliance questions
Provides an introduction to OSHA and covers the agency's recordkeeping and training requirements
Includes helpful extras like FAQs, customizable safety plans and forms, and compliance checklists
Covers key workplace safety topics such as...
Walking-Working Surfaces / Slips, Trips & Falls
Lockout/tagout
Emergency planning and response
Air contaminants
Personal protective equipment (PPE)
Chemicals and hazardous substances
And many more!
ISBN 978-1-68008-088-9
Offer includes complimentary, limited-time access to the online version.
Extend the value of your manual and ensure it is always updated with an optional update service subscription.
There's no obligation; nothing to return or cancel.
Get Your Free Manual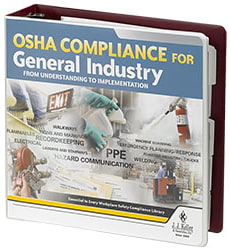 Easy to understand

This manual lays out information in an easy to find format. I love the fact that it is written in layman's terms. I understand OSHA laws because of this manual. There are always tips and hints that help when prepping for training.

Kathi from Indianapolis, IN