OSHA removes non-recordkeeping portions of healthcare ETS
Posted December 30, 2021
On December 27, OSHA announced that it is withdrawing the non-recordkeeping portions of the healthcare emergency temporary standard (ETS). However, the agency strongly encourages all healthcare employers to continue to implement the ETS's requirements.
On June 21, 2021, OSHA adopted a Healthcare ETS to protect workers from COVID-19 in settings where they provide healthcare or healthcare support services. Under the OSH Act, an ETS is effective until superseded by a permanent standard – a process contemplated by the OSH Act to occur within six months of the ETS's promulgation.
OSHA says it intends to continue to work to issue a final standard, however, given that it anticipates a final rule cannot be completed within six months, it is withdrawing the non-recordkeeping portions of the healthcare ETS. The COVID-19 log and reporting provisions, found in 1910.502(q)(2)(ii), (q)(3)(ii)-(iv), and (r), remain in effect. These provisions were adopted under a separate provision of the OSH Act.
As OSHA works towards a permanent regulatory solution, it will vigorously enforce the general duty clause and its general standards, including the Personal Protective Equipment (PPE) and Respiratory Protection Standards, to help protect healthcare employees from the hazard of COVID-19.
This article was written by Rachel Krubsack of J. J. Keller & Associates, Inc.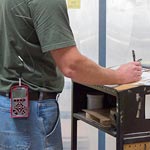 Looking for more on workplace safety?
Get the information and products you need to stay on top of industry changes and comply with regs.