WA farm fined more than $2M for safety and health violations
Posted December 30, 2020
An investigation into the COVID-19 deaths of two workers at a farm in Washington state uncovered dozens of safety and health violations. As a result, the farm has been fined more than $2 million, one of the largest workplace safety and health fines in state history.
Washington's Division of Occupational Safety and Health (DOSH) opened an investigation July 16 after receiving anonymous calls from workers at the farm. During the inspection, investigators confirmed a 37-year-old temporary worker from Mexico died July 8; the death had not been reported to DOSH as required. A second worker, a 63-year-old man from Jamaica, collapsed and died July 31. The cause of death for both workers was COVID-19.
In total, the investigation found 24 egregious willful violations — 12 for unsafe sleeping arrangements and 12 for unsafe worker transportation. Each of these violations was assessed a penalty of $84,000. The farm was also cited for four other serious violations including not reporting the fatality.
The July investigation was the second involving the farm in a matter of weeks. An investigation was opened on May 28 after receiving a worker complaint. That investigation resulted in a $13,200 fine for not ensuring adequate social distancing. During that investigation, inspectors explained the details of the emergency temporary agricultural worker housing rules and the changes needed for the farm to be in compliance.
The farm has 15 days to appeal the violations and the $2,038,200 penalty.
This article was written by Rachel Krubsack of J. J. Keller & Associates, Inc.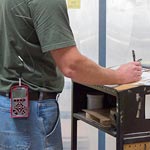 Looking for more on workplace safety?
Get the information and products you need to stay on top of industry changes and comply with regs.