Prepare for your first annual query of the Clearinghouse
Posted December 10, 2020
Only weeks remain for those motor carriers who have not yet requested their first annual query of the CDL Drug and Alcohol Clearinghouse.
A limited annual query is due no later than January 5, 2021, for those drivers who were included in your Part 382 program on January 6, 2020 (the launch date of the Clearinghouse). In part one of a two-part series, the steps to request the reports will be addressed. Part two will instruct you on how to respond to the queries you receive.
Why is a report necessary?
The annual limited query assists you in learning of testing violations occurring under another motor carrier's program, but not reported to you by your CDL driver (i.e., failed pre-employment test or violation under concurrent employment). If you hired someone since the implementation of the Clearinghouse, the first annual query is required within a year of the pre-employment query.
Steps to requesting your first annual queries
Certain steps need to be taken by motor carriers prior to requesting their first annual queries, including:
Registering with the Clearinghouse as an employer, if this task was not done previously. During the account set up, the motor carrier must designate an administrator over the account and assign assistants, if applicable. The motor carrier must purchase a query bundle based on an estimated usage. The carrier can purchase additional queries if it finds the current number of prepaid reports is inadequate.
Designating a third-party administrator (TPA) in its Clearinghouse account, if the motor carrier intends on using a service agent to request the queries on its behalf. Note that this service typically requires a contract, so designating a current TPA does not ensure it will perform the task unless it has been discussed prior.
Providing the driver with a consent form and obtaining the driver's signature prior to making the query request. This consent can be worded in a way that allows for use throughout the driver's career, avoiding the need to collect a consent form each year. If a driver refuses to sign the consent by the time the annual query is due, the motor carrier is unable to use the driver in a safety-sensitive function.
Submitting (via the carrier or its designated TPA) individual query requests or a bulk upload. The Clearinghouse requires specific data elements on the driver in order to query the system. The results will be provided immediately for individual submissions and usually the next day for a bulk upload. Carriers must receive the results prior to the deadline.
Steps taken after receiving the query are dependent upon the result. Part two of this series will lead you through responding to the findings.
This article was written by Kathy Close of J. J. Keller & Associates, Inc.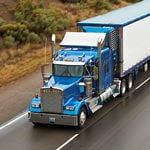 Looking for more on transportation safety?
Get the information and products you need to stay on top of industry changes and comply with regs.