OSHA corrects walking-working surfaces standard
Posted December 23, 2019
On December 17, OSHA issued corrections to its walking-working surfaces (WWS) and fall protection systems standards. While the Agency notes the corrections mostly reflect typographical, formatting, and clerical errors, some provide more information and/or clarification about the standards' requirements. None of the corrections affect or change employers' existing rights or obligations.
The corrections include:
Ladders (1910.23) – OSHA revised 1910.23(d)(4) to state that 42 inches is the minimum – not the exact – measurement for fixed ladder side rail extensions. The Agency says it intended workers to have sufficient handholds "at least 42 inches" above the highest level on which they will step when reaching the access level or landing platform served by a ladder.
Stairways (1910.25) – OSHA clarified that all articulated stairs used in general industry, not just those serving floating roof tanks, are exempt from the WWS standard.
Personal fall protection systems (1910.140) – OSHA says that in the 2016 final rule, it mistakenly added the requirement that the gate strength of snaphooks and carabiners be proof tested to 3,600 pounds in all directions instead of adding the intended requirement that the gate of snaphooks and carabiners be capable of withstanding a minimum load of 3,600 pounds without the gate separating from the nose of the snaphook or carabiner body by more than 0.125 inches.

OSHA notes that proof testing of the gates of snaphooks and carabiners could be destructive to the equipment, rendering them unsafe for workers in the field. OSHA corrected the gate strength provision to be consistent with the ANSI/ASSE Z359.12-2009 consensus standard, Connecting Components for Personal Fall Arrest Systems, as originally intended.
The corrections took effect December 17, 2019.
This article was written by Rachel Krubsack of J. J. Keller & Associates, Inc.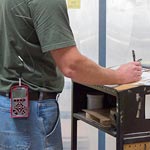 Looking for more on workplace safety?
Get the information and products you need to stay on top of industry changes and comply with regs.