Survey reveals today's top human capital challenges
Posted December 15, 2015
Today's most critical human capital challenges? They are employee engagement, developing the next generation of leaders, and competitive compensation, as well as retention, HR professionals told the Society for Human Resource Management (SHRM) in a survey released on December 9.
HR's assessment was reinforced by C-suite executives in other disciplines who said in an accompanying survey that retaining their highest performing employees, maintaining competitive benefits, and retaining employees overall were their greatest challenges, underscoring the importance of HR's role in maintaining competitiveness in today's business environment.
HR professionals appear to view many of these issues as more pressing than do non-HR C-suite executives, the surveys showed.
"Yet there is optimism that at least some of the key human capital challenges will be more manageable in the future," said Jen Schramm, SHRM-SCP, SHRM's manager of workforce trends. "At most organizations, both HR and non-HR C-suite executives view HR as having a strategic role and are currently planning to make changes to their HR function to make it even more strategic and measurement-driven in the years to come."
SHRM's Business and Human Capital Challenges Today and in the Future report is accompanied by 14 essays about talent management and engagement, business environment, and business strategy written by industry thought leaders.
"One key role for HR is to ensure that organizational strategy and organizational culture are aligned. Without this alignment, no matter how good the strategy or how good the culture, this disconnect will likely cause failure," Deb Cohen, SHRM-SCP, senior vice president of Knowledge Development at SHRM, wrote in the essay "Managing Change."
Among the surveys' findings:
Thirty-eight percent of HR respondents said the top current challenge is "maintaining high levels of employee engagement." It was followed by "developing the next generation of organizational leaders" (31 percent), "maintaining competitive compensation offerings" (29 percent), and "retaining our highest performing employees" (26 percent).
When respondents were asked about challenges for the next 10 years, results reflected the impact of an aging workforce. The top response by HR professionals was "developing the next generation of organizational leaders" (39 percent), followed closely by "managing the loss of key workers and their skill sets due to retirement" (35 percent).
---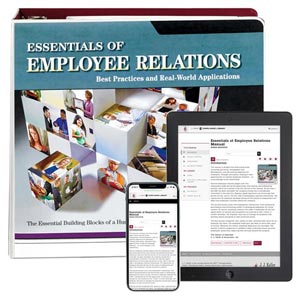 J. J. Keller's Essentials of Employee Relations Manual gives HR the best practice tips and real-world applications in one convenient resource.
---
J. J. Keller's FREE HRClicks™ email newsletter brings quick-read human resources-related news right to your email inbox.