Study reveals safety issues in long-haul trucking industry
Posted December 16, 2015
New data from the National Institute for Occupational Safety and Health (NIOSH) highlights a number of important safety issues facing long-haul truck drivers (LHTD) and their employers. The study, published in the journal Accident Analysis and Prevention, describes truck crashes, work-related injuries, work environments, driver training, attitudes, and behaviors.
Included in the key findings of the study, which are based on NIOSH's National Survey of LHTD Injury and Safety, drivers reported the following:
Perceived their delivery deadlines as unrealistically tight — 73 percent. According to NIOSH, this could increase the likelihood of unsafe actions such as speeding, violating driving-hour regulations, and driving despite fatigue, bad weather, or heavy traffic.
Received inadequate training at the beginning of their careers — 38 percent.
Experienced at least one crash in their career — 35 percent.
Additionally, 68 percent of non-crash injuries involving days away from work among company drivers were not reported to employers.
NIOSH conducted the survey in 2010 interviewing 1,265 long-haul truck drivers at 32 truck stops across the continental U.S. about their health, safety, health behaviors, work practices, and involvement in truck crashes.
NIOSH published initial findings from the survey in the American Journal of Industrial Medicine addressing obesity and the risk of chronic disease in relation to LHTD health and work practices in 2014.
---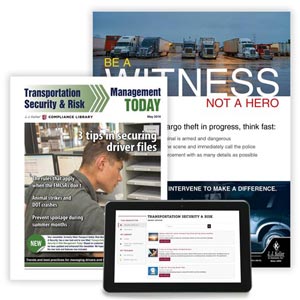 J. J. Keller's Transport Safety Risk Management & Security Newsletter keeps you up-to-date on the latest security and motor carrier safety risk management.
---
J. J. Keller's FREE Transportation SafetyClicks™ email newsletter brings quick-read safety and compliance news right to your email box.
Sign up to receive Transportation SafetyClicks™.