Squirrel toilet seat decal among list of strange holiday gifts received from coworkers
Posted December 17, 2015
It is beginning to look a lot like that time of year in the office when workplace holiday parties and gift exchanges can make for some pretty awkward moments between coworkers.
For CareerBuilder's annual holiday survey, workers across the nation shared the most unusual gifts they've received from a coworker during the holiday season.
While many gift-bearing workers stick to more traditional holiday offerings, such as ornaments, candy, and gift baskets, others get a little more creative with their definition of the word "gift:"
The items on the unusual list include a:
Squirrel toilet seat decal,
Pair of Christmas socks that look like elf feet,
Roll of duct tape,
Bell on a string,
Mystery bag with a coat in it,
Giant heart shaped box of candy from Valentine's Day,
Picture of a bear,
Bowling ball, and
Ceramic sheep you can dress up seasonally.
Twenty-one percent of workers say they plan to buy holiday gifts for coworkers (the same proportion as last year), and nearly the same proportion (20 percent) plan to buy a gift for the boss. Of those who plan to buy gifts for their coworkers or bosses, the majority (80 percent) expect to spend no more than $25 on each gift, 36 percent will spend no more than $10, and 9 percent will cap themselves off at $5.
More employers getting into the holiday spirit
Employees aren't the only ones in the giving spirit this year. According to the survey, a higher percentage of employers plan to offer holiday perks in the form of parties, bonuses and gifts this year than in years past.
Parties: Two thirds (66 percent) of employers say they plan to throw company holiday parties this year, up from 63 percent in 2014 and 59 percent in 2013. Though nearly 2 in 5 workers (38 percent) say they plan to attend the office holiday party, the overwhelming majority (93 percent) say they would prefer a holiday bonus or time off, while only 1 percent prefer a party, and 6 percent have no preference.
Bonuses: Some employees, however, may get their bonus wishes after all. More than half of employers (54 percent) plan to give employees a holiday bonus this year, up from 47 percent in 2014. More than 1 in 10 employers say they will give a larger bonus than last year (14 percent).
Gifts: Many employers' seasonal goodwill doesn't stop at parties and bonuses. Forty-five percent of employers will give employees gifts this year (up from 40 percent in 2014), and 47 percent will give charitable donations.
---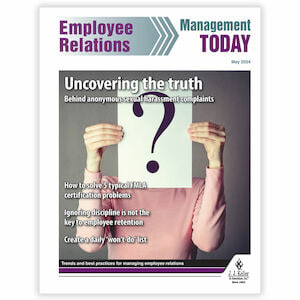 The SUPER adVISOR™ newsletter contains four pages dedicated to the HR manager and a corresponding four-page pullout dedicated to the needs of supervisors.
---
J. J. Keller's FREE HRClicks™ email newsletter brings quick-read human resources-related news right to your email inbox.