Snowplow safety
Posted December 17, 2015
With winter weather upon us in various portions of the country, now is a good time to review snowplow safety with your drivers.
Stay behind a snowplow. Maintain a following distance of at least five to six car lengths to avoid collisions with these slow-moving vehicles as well as damage to your vehicle from the salt, sand, and other road treatment materials being thrown onto the road.
Never drive next to a snowplow. A plow can shift sideways after hitting snowpacks, heavy slush, or drifts.
Never crowd a snowplow. If you must pass, only do it when a safe and legal passing area is available. This passing area must be clear of snow, ice, and slush. Also keep in mind that plows are wider than most vehicles and portions of the plow or blade may not be visible due to blowing snow.
Know where the snowplow is on multi-lane roadways, as the plow could be in a lane of traffic or on the shoulder.
When a snowplow approaches, allow the plow room to operate by slowing down and moving to the right side of the road.
Never drive through snow clouds, caused by snow swirling around the snowplow.
As with any adverse conditions, turn on your vehicle's headlights.
---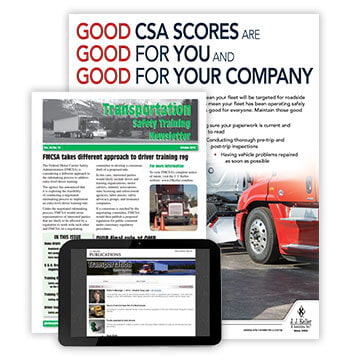 J. J. Keller's Transportation Safety Training Newsletter helps you build your drivers' skill level, reduce the chance of fines, and stay in compliance.
---
J. J. Keller's FREE Transportation SafetyClicks™ email newsletter brings quick-read safety and compliance news right to your email box.
Sign up to receive Transportation SafetyClicks™.