More employees plan to land a new job in the new year, according to survey
Posted December 31, 2015
As midnight approaches on the 31st and the final minutes of 2015 tick away, more than one in five employees (21 percent) are pledging to leave their current employers in 2016, a 5 percent increase since last year (16 percent), according to a CareerBuilder survey.
Among younger workers, the numbers are starker. Three in 10 employees ages 18 to 34 (30 percent) expect to have a new job by the end of 2016, compared to 23 percent last year. To keep their resolution to find a new job, 34 percent of employees are regularly searching for job opportunities, even though they're currently employed — a four point increase since last year (30 percent).
"Just because a person is satisfied with their job doesn't necessarily mean they aren't looking for new work," said Rosemary Haefner, chief human resources officer at CareerBuilder. "Because of this, it's critical to keep up with your employees' needs and continue to challenge them with work they feel is meaningful."
New Year's resolutions at work
Aside from finding a new job, the top New Year's resolutions that workers say they're making for the office this year are:
Save more of my pay: 38 percent (vs. 42 percent last year)
Be less stressed: 28 percent (vs. 34 percent last year)
Get a raise or promotion: 26 percent (vs. 26 percent last year)
Eat healthier at work: 19 percent (vs. 25 percent last year)
Learn something new (take more courses, training, seminars): 17 percent (vs. 22 percent last year)
Looking back, workers had the same top five resolutions for 2015, and while not all of their goals were met, here's what was accomplished:
Eat healthier at work: 13 percent
Be less stressed: 12 percent
Save more of my pay: 11 percent
Learn something new (take more courses, training, seminars): 9 percent
Perform better on the job: 8 percent
What are workers looking for?
When asked what factors rank as more important than salary when considering a position, employees said:
Job stability: 65 percent
Affordable benefits: 59 percent
Location: 56 percent
Good boss: 51 percent
Good work culture: 46 percent
When asked if they could choose extra perks to make their workplace more satisfying, the most popular choices workers pointed to include:
Half-day Fridays: 38 percent
On-site fitness center: 23 percent
Daily catered lunches: 22 percent
Massages: 18 percent
Being able to wear jeans: 16 percent
---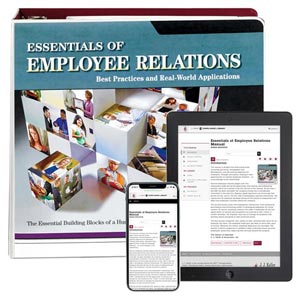 J. J. Keller's Essentials of Employee Relations Manual gives HR pros best practice tips and real-world applications in one convenient resource.
---
J. J. Keller's FREE HRClicks™ email newsletter brings quick-read human resources-related news right to your email inbox.