EEOC sues fast food giant for disability discrimination
Posted December 30, 2015
A fast food restaurant in Kansas City, Missouri, violated federal law by refusing to accommodate and hire a deaf applicant, the U.S. Equal Employment Opportunity Commission (EEOC) charged in a recent lawsuit.
According to the suit, the applicant, who is deaf, applied online for a job at a fast food restaurant in Belton, Missouri, in June 2012. He indicated on his application that he attended Kansas School for the Deaf. He also said he had previous job experience working as a cook and clean-up team member at a similar fast food restaurant in Louisiana in 2009. When the Belton restaurant manager learned the applicant needed a sign language interpreter for his job interview, she canceled the interview and never rescheduled it, despite the applicant's sister volunteering to act as the interpreter. Restaurant management continued to interview and hire new workers after the applicant made several attempts to schedule an interview.
Such alleged conduct violates the Americans with Disabilities Act of 1990 (ADA), which prohibits discrimination against people with disabilities in employment and requires employers to make reasonable accommodations for job applicants so they will have equal opportunities during the application process. EEOC filed its lawsuit in U.S. District Court for the Western District of Missouri after first attempting to reach a pre-litigation settlement through its conciliation process. EEOC seeks back pay, compensatory and punitive damages, and injunctive relief, including training for all the corporation's managers on accommodations for applicants with disabilities, particularly those who are deaf.
---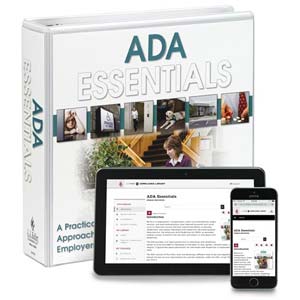 J. J. Keller's ADA Essentials Manual reviews Americans with Disabilities Act (ADA) guidelines and provides plain-English explanations to help you stay in compliance.
---
J. J. Keller's FREE HRClicks™ email newsletter brings quick-read human resources-related news right to your email inbox.