Fall Protection continues to top list of OSHA violations
Posted November 3, 2023
During the 2023 National Safety Council (NSC) Safety Congress & Expo, it was announced that fall protection (1926.501) once again tops the list of OSHA violations. For the past 13 years, this has been OSHA's most cited standard. In fiscal year (FY) 2023, there were 7,271 recorded violations, up from 5,250 in FY2022.
Among the regulation's requirements:
Employers must assess the workplace to determine if walking/working surfaces can safely support workers.
Employers must determine whether fall protection is required and if so, select and provide workers with fall protection systems that comply with the criteria at 1926.502.
OSHA requires the use of fall protection when construction workers are working at heights of six feet or greater above a lower level, and less than six feet when working near dangerous equipment.
Hand in hand with general fall protection requirements as the number one violation, training requirements for fall protection (1926.503) ranked #8 on the list, with 446 more violations than in FY2022. In both instances, roofing contractors had the greatest number of violations.
This article was written by Carmen King of J. J. Keller & Associates, Inc.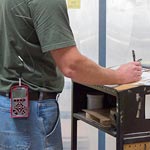 Looking for more on workplace safety?
Get the information and products you need to stay on top of industry changes and comply with regs.