New Exemptions Under Federal Insecticide, Fungicide, and Rodenticide Act (FIFRA)
Posted November 30, 2022
EPA is adding chitosan to the list of active ingredients allowed in minimum risk pesticide products exempt from registration and other requirements of the Federal Insecticide, Fungicide, and Rodenticide Act (FIFRA), 7 U.S.C. 136 et seq. In addition, EPA is specifying that the listing also includes those chitosan salts that can be formed with the acids that are listed as active or inert ingredients eligible for use in minimum risk pesticide products. Chitosan is a naturally occurring substance found in the cell walls of many fungi. Chitosan also occurs in the shells of all crustaceans ( e.g., crab, shrimp, and lobster) and in the exoskeletons of most insects. Microorganisms in nature produce enzymes that break down chitosan, resulting in sugars that are metabolized as a carbon and nitrogen source.
If chitosan and chitosan salts formed from mixing with eligible active and inert ingredients were not included in this exemption, persons seeking to manufacture or distribute pesticide products containing chitosan would be required to register those product(s) under FIFRA. This could entail generating supporting data, incurring submission costs, and paying registration fees. In addition, the petitioner could incur annual maintenance fees on the registrations. EPA's 2019 cost analysis estimates the cost savings of listing chitosan as an active ingredient that can be used in minimum risk pesticide products under 40 CFR 152.25(f) to be between $53,000 and $116,000 initially and about $3,400 per year thereafter for each pesticide product registered containing chitosan (Ref. 4). EPA has also determined that the estimated costs savings per product registered containing chitosan salts would be the same as those containing chitosan
This article was written by Mishka Binns of J. J. Keller & Associates, Inc.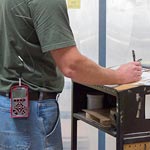 Looking for more on workplace safety?
Get the information and products you need to stay on top of industry changes and comply with regs.