New Jersey mandates COVID-19 protocols for all employers
Posted November 6, 2020
New Jersey Governor Philip Murphy has signed an Executive Order mandating COVID-19 safety and health requirements for all private and public employers, effective November 5, 2020.
The order requires employers to implement the following protocols:
All individuals on the worksite maintain at least six feet of distance from one another to the maximum extent possible;
Employees, customers, visitors, and other individuals entering the worksite wear a face mask on the premises;
Provide hand sanitizer or sanitizing wipes to employees, customers, and visitors at no cost to them;
Ensure employees practice regular hand hygiene;
Routinely clean and disinfect all high-touch areas in accordance with New Jersey Department of Health (DOH) and Centers for Disease Control and Prevention (CDC) guidelines;
Conduct daily health checks before each shift;
Immediately separate and send home employees who appear to have COVID-19 symptoms, as defined by the CDC, upon arrival at work or who become sick during the day;
Promptly notify all employees of any known exposure to COVID-19 at the worksite;
Clean and disinfect the worksite in accordance with CDC guidelines when an employee at the site has been diagnosed with COVID-19; and
Continue to follow guidelines and directives issued by the New Jersey DOH, the CDC, and OSHA, as applicable, for maintaining a clean, safe, and healthy work environment.
Compliance and safety training for employers and employees, as well as notices and informational materials, are forthcoming from New Jersey's Department of Labor and Workforce Development.
Employers who do not follow the safety standards can be subject to fines and penalties, and potential worksite closure by the New Jersey DOH.
This article was written by Rachel Krubsack of J. J. Keller & Associates, Inc.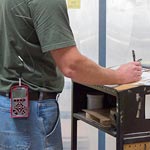 Looking for more on workplace safety?
Get the information and products you need to stay on top of industry changes and comply with regs.