FMCSA releases 'ag commodity' HOS rule change
Posted November 20, 2020
The Federal Motor Carrier Safety Administration (FMCSA) has released a new hours-of-service rule affecting motor carriers engaged in the transportation of livestock, produce, grains, plants, and other perishable agricultural products.
The new rule expands the variety of agricultural commodities that are eligible for a complete exemption from the FMCSA's hours-of-service rules in 49 CFR Part 395. The so-called "ag exemption" found in §395.1(k) applies to drivers transporting agricultural commodities or farm supplies within a 150-air-mile radius of their source during the state's planting and harvesting season.
Because the new rule also expands the definition of "livestock," it adds to the list of drivers who are exempt from the FMCSA's requirement for 30-minute breaks. Section 395.1(v) says livestock haulers are exempt from breaks as long as they have animals on the vehicle.
New definitions
The new rule continues to define "agricultural commodity" as "any agricultural commodity, non-processed food, feed, fiber, or livestock." However, given how vague that definition has always been, the agency has added and/or revised the following definitions:
"Any agricultural commodity means horticultural products at risk of perishing, or degrading in quality, during transport by commercial motor vehicle, including plants, sod, flowers, shrubs, ornamentals, seedlings, live trees, and Christmas trees."
"Livestock means livestock as defined in sec. 602 of the Emergency Livestock Feed Assistance Act of 1988 [7 U.S.C. 1471], as amended, insects, and all other living animals cultivated, grown, or raised for commercial purposes, including aquatic animals.
"Non-processed food means food commodities in a raw or natural state and not subjected to significant post-harvest changes to enhance shelf life, such as canning, jarring, freezing, or drying. The term "non-processed food" includes fresh fruits and vegetables, and cereal and oilseed crops which have been minimally processed by cleaning, cooling, trimming, cutting, chopping, shucking, bagging, or packaging to facilitate transport by commercial motor vehicle.
The changes will go into effect 15 days after the rule is published in the Federal Register, which is expected to happen in coming days.
Interim final
The rule was issued as an "interim final" rule, meaning the FMCSA was able to skip the normal step of first publishing a proposed version of the rule and accepting public comment before issuing the final product. Instead, the public will have 30 days to submit comments after the rule is published.
In July 2019, the FMCSA issued a notice about its plans to write the new rule and asked for public input at that time. The agency received 145 comments in response.
This article was written by Daren Hansen of J. J. Keller & Associates, Inc.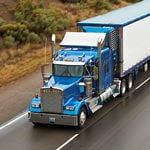 Looking for more on transportation safety?
Get the information and products you need to stay on top of industry changes and comply with regs.