Two genders not required for sexual harassment
Posted November 25, 2019
The headlines are ripe with cases of men sexually harassing women, but two genders are not required for harassment to occur. If you think your organization is immune from sexual harassment because it has a high percentage of only one gender, think again.
Case in point
From at least 2007 until 2015, a female manager and two female employees at a mushroom farm allegedly subjected eight female workers working in various mushroom-harvesting positions to repeated sexual harassment in the form of unwanted sexual touching and comments. The Equal Employment Opportunity Commission (EEOC), which enforces the federal employment anti-discrimination laws, also alleged that the employer retaliated against one of the workers who opposed the sexual harassment by disciplining her and demoting or reassigning her to a different, lower-paying position.
The EEOC doesn't take kindly to such alleged conduct, as it generally violates Title VII of the Civil Rights Act of 1964, which prohibits sexual harassment and discrimination. Title VII also prohibits employers from retaliating against an employee because she opposed discrimination or harassment.
In response to the situation, the EEOC filed suit in U.S. District Court for the Eastern District of Pennsylvania (Reading) after first attempting to reach a voluntary prelitigation settlement through its conciliation process. Two of the female workers also sued in their own names as part of the EEOC's case.
The case was resolved with a three-year consent decree that included the employer must:
Pay $200,000 in monetary relief to the eight female workers
Stop engaging in sex discrimination
Submit mandatory reports to the EEOC of any future complaints and investigations of sex discrimination, sexual harassment, or retaliation
Create and disseminate an anti-discrimination policy and complaint procedure in Spanish and English
Designate EEO officers to investigate and respond to complaints
Provide training on Title VII in Spanish and English
Provide EEO officers additional training on conducting investigations of complaints
Post and distribute to workers a bi-lingual notice about the settlement and employees' rights under Title VII.
The three individuals charged by the EEOC as perpetrators of the harassment are also barred from holding supervisory positions with the employer.
In almost all discrimination cases, the employer's penalties include require training. If this employer had provided training early on, perhaps it would not have ended up having to defend itself and being penalized.
EEOC et al. v. Bisconti Farms, Inc., et al., District Court for the Eastern District of Pennsylvania, Civil Action No. 18-cv-4166, November 8, 2019.
This article was written by Darlene M. Clabault, SHRM-CP, PHR, CLMS, of J. J. Keller & Associates, Inc.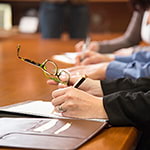 Looking for more on HR compliance?
Get the information and products you need to stay on top of industry changes and comply with regs.