Senate bill would promote women in trucking
Posted November 25, 2019
Two U.S. Senators introduced a bipartisan bill supporting the involvement of more women in the trucking industry.
The "Promoting Women in Trucking Workforce Act" was introduced by Senators Tammy Baldwin of Wisconsin and Jerry Moran of Kansas.
The bill would instruct the Federal Motor Carrier Safety Administration (FMCSA) to establish a Women of Trucking Advisory Board and identify the barriers women face when trying to enter the trucking industry. The act would include working with organizations and companies to coordinate formal education and training programs while helping to identify and establish training and mentorship opportunities.
Statistics show that the trucking industry lags behind the U.S. labor force for hiring women. Women make up 47 percent of the general workforce, but only 24 percent are employed in the trucking industry, and only 7 percent are drivers.
The proposed legislation would also require FMCSA to submit a report to Congress on the board's findings and recommendations. The Women in Trucking Association and the American Trucking Association both support the bill.
This article was written by Dave Lubach of J. J. Keller & Associates, Inc.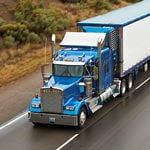 Looking for more on transportation safety?
Get the information and products you need to stay on top of industry changes and comply with regs.