Proposed rule: Employers may disclose retirement plans online
Posted November 4, 2019
The U.S. Department of Labor's Employee Benefits Security Administration (EBSA) proposed a rule that would allow employers/plan administrators to furnish ERISA-covered retirement plans electronically instead of by hard copy. If adopted, the proposed rule would offer a safe harbor for employers who want to make retirement plan disclosures accessible on a website.
The proposed rule also includes additional protections for employees, such as standards for the website where disclosures will be posted and system checks for invalid electronic addresses.
Employers would need to notify plan participants, for example to the participant's email address, that information is available online, including instructions for how to access the disclosures and their right to receive paper copies of disclosures. Plan participants would also have the right to paper copies of information. Other aspects of the proposed rule include the following:
A notice of internet availability generally would need to be sent each time a retirement plan disclosure is posted to the internet website. To prevent "email overload," the proposal allows a notice of internet availability to incorporate or combine other notices of internet availability in limited circumstances.
ERISA and related regulations govern how information required to be furnished to participants, beneficiaries, and other individuals are delivered. Plan administrators must use delivery methods reasonably calculated to ensure actual receipt of information by participants, beneficiaries, and other individuals. Currently, for example, in-hand delivery to an employee at his or her workplace is acceptable, as is material sent by first class mail.
In 2002, employers began being allowed to deliver required disclosures using electronic media only if they met certain criteria. These criteria included providing notice to each participant, beneficiary, or other individual, in electronic or non-electronic form, at the time a document is furnished electronically, that apprises the individual of the significance of the document when it is not otherwise reasonably evident. This was limited, however, to participants who are wired at work; they have the ability to access electronic documents at any location at a worksite. Otherwise, plan participants need to agree to receive the documents electronically.
After providing guidance since 2002 and analyzing the issue, including evolving technology, the EBSA came up with proposed rules. The new proposed safe harbor would be in addition to the 2002 safe harbor.
The proposal contains a separate, but related Request for Information (RFI) for information, data, and ideas on additional measures (beyond the proposed electronic delivery safe harbor) the EBSA could take in the future to improve the effectiveness of ERISA disclosures, especially with respect to the design and content of ERISA disclosures.
This article was written by Darlene M. Clabault, SHRM-CP, PHR, CLMS, of J. J. Keller & Associates, Inc.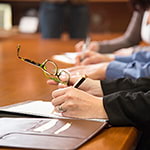 Looking for more on HR compliance?
Get the information and products you need to stay on top of industry changes and comply with regs.