Fall 2019 Regulatory/Deregulatory Agenda released
Posted November 25, 2019
On November 20, the White House Office of Management and Budget (OMB) released the Fall 2019 Unified Agenda of Regulatory and Deregulatory Actions. The Agenda provides a sneak peek into the federal government's plans to create, revise, or withdraw regulations in the next year.
Some of OSHA's listings for upcoming rulemakings include:
| Rule | Timetable |
| --- | --- |
| Powered Industrial Trucks Design Standard Update | Proposed rule, Jan. 2020 |
| Update to the Hazard Communication Standard | Proposed rule, Jan. 2020 |
| Welding in Construction Confined Spaces | Proposed rule, Feb. 2020 |
| Walking Working Surfaces | Proposed rule, April 2020 |
| Amendments to the Cranes and Derricks in Construction Standard | Proposed rule, May 2020 |
| Communication Tower Safety | Proposed rule, Sept. 2020 |
| Rules of Agency Practice and Procedure Concerning OSHA Access to Employee Medical Records | Final rule, Dec. 2019 |
| Technical Corrections to 27 OSHA Standards and Regulations | Final rule, Dec. 2019 |
| Exposure to Beryllium to Review General Industry Provisions | Final rule, Dec. 2019 |
Other upcoming rules are still in the early stages of development; in many cases, OSHA is still gathering background information. These future revisions would affect the following areas:
Emergency Response
Mechanical Power Presses Update
Powered Industrial Trucks
Lockout/Tagout Update
Tree Care Standard
Prevention of Workplace Violence in Health Care and Social Assistance
Blood Lead Level for Medical Removal
Occupational Exposure to Crystalline Silica; Revisions to Table 1 in the Standard for Construction
This article was written by Rachel Krubsack of J. J. Keller & Associates, Inc.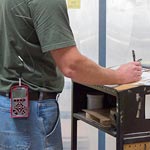 Looking for more on workplace safety?
Get the information and products you need to stay on top of industry changes and comply with regs.