BLS: Employer-reported injury, illness rate unchanged in 2018
Posted November 11, 2019
The Bureau of Labor Statistics (BLS) recently released its Employer-Reported Workplace Injuries and Illnesses report, which show there were 2.8 million nonfatal workplace injuries and illnesses reported by private industry employers in 2018, unchanged from 2017. The numbers translate to a rate of 2.8 cases per 100 full-time equivalent (FTE) workers.
The data are estimates from the 2018 Survey of Occupational Injuries and Illnesses (SOII), which covers counts and incidence rates of employer-reported nonfatal workplace injuries and illnesses by industry and type of case, along with more detailed estimates of case circumstances and worker characteristics for cases that resulted in days away from work.
Highlights from the report include:
The incidence rate for total recordable cases (TRC) in private industry remained unchanged from 2017, as did the incidence rates for days away from work (DAFW) cases and for days of job transfer and restriction only (DJTR).
Retail trade was the only private industry sector where the TRC rate increased in 2018, from 3.3 cases to 3.5 cases per 100 FTE workers.
Within private industry, there were 900,380 injuries or illnesses that caused employees to miss at least one day of work in 2018.
Results from the SOII contain the first national estimates for emergency room (ER) and hospital visits for nonfatal occupational injuries and illnesses requiring DAFW. These estimates include case and demographic data such as industry, event, and occupation.
A total of nearly 334,000 DAFW cases resulted in a visit to the ER or in-patient hospital.
This article was written by Rachel Krubsack of J. J. Keller & Associates, Inc.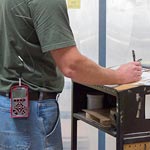 Looking for more on workplace safety?
Get the information and products you need to stay on top of industry changes and comply with regs.