Is your business really accessible?
Posted November 5, 2018
The Americans with Disabilities Act (ADA) requires businesses, including commercial facilities open to the public, to be accessible for persons with disabilities; this might not only include brick and mortar facilities, but also the related websites.
The U.S. Department of Justice (DOJ) enforces the public accessibility provisions of the ADA. The agency has provided standards on how to comply in relation to a physical facility, but it has not published regulations or standards instructing businesses how to comply in relation to websites. That, however, should not stop businesses from taking steps to make their business accessible and, if needed, their websites.
In a letter to Representative Ted Budd, in regard to websites, the DOJ indicated that just because no current regulation exists does not mean that businesses are exempt from complying with the law. Until requirements are adopted through rulemaking, public and commercial facilities have flexibility in how to comply with the ADA's general requirements of nondiscrimination and effective communication. If your business is not accessible to individuals with disabilities, you could risk a discrimination claim. But failure to voluntarily comply with any particular technical standard for website accessibility does not mean the business has failed to comply with the ADA. Businesses may choose how to comply.
Some businesses turn to the privately developed Web Content Accessibility Guidelines (WCAG) 2.0 or 2.1. But failure to comply with those guidelines does not necessarily mean that the business has failed to comply with the ADA. Businesses are free to choose how they comply, as long as persons with disabilities are able to access a public accommodation's goods, services, and benefits through the website, or some alternative fashion. For example, providing a telephone line that is staffed 24 hours every day could be a compliant alternative. Mandating that individuals use an inaccessible website, on the other hand, could likely raise risks.
The DOJ did attempt to publish related website regulations, but withdrew them. The agency is evaluating whether promulgating specific web accessibility standards through regulations is necessary and appropriate to ensure compliance with the ADA.
Website litigation has been gaining steam, but the DOJ appears to put the clarification burden on Congress, through the legislative process. The current Congress, however, might not see this issue as a high priority.
In light of all this, businesses should review whether their websites are accessible and, if not, how they can allow individuals to gain access to their goods and services.
This article was written by Darlene M. Clabault, SHRM-CP, PHR, CLMS, of J. J. Keller & Associates, Inc.
---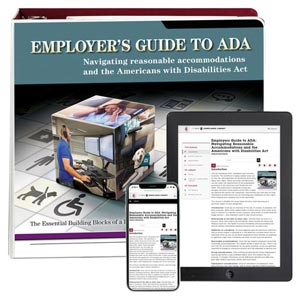 J. J. Keller's Employer's Guide to ADA Manual explains Americans with Disabilities Act accessibility guidelines related to hiring, training, and compensation.
---
J. J. Keller's FREE HRClicks™ email newsletter brings quick-read human resources-related news right to your email inbox.