Veteran's Day Study: More veterans are finding employment
Posted November 9, 2015
Veterans of the most recent wars in Iraq and Afghanistan have made strides over the last four years when it comes to employment. While they are doing better as a group than the overall population, a new analysis of government data shows that they still lag slightly behind veterans from the first Gulf War.
The study, released just ahead of Veterans' Day (November 11, 2015) by Challenger, Gray & Christmas, Inc., highlights just how in-demand the skills and experience possessed by veterans are as the economy continues to improve.
According to the report, as of September, the unemployment rate among Gulf War Era 2 veterans was 5.0 percent, just below the national average of 5.1 percent. Just two years ago, the unemployment rate among these veterans was double the current level at 10.1 percent. In January 2011, it peaked at a record high of 15.2 percent.
Even more, the data shows this group has managed to achieve a participation rate of 81 percent. That is higher than the 62 percent participation rate among all Americans age 16 and older. It is also greater than the 71 percent participation rate among those 20 years old and up.
Despite the gains, veterans of the most recent conflicts have not quite pulled even with those from the first Gulf War. They too have a high participation rate of 81 percent, but of the 2.8 million of these veterans in the civilian labor force, just 3.2 percent are unemployed.
The report states the drawdown of two wars and a push to make deep cuts in defense spending forced many men and women from the military earlier than expected. For example, in 2005, the Air Force announced 40,000 cuts to personnel levels. The Army reduced its ranks by 50,000 in 2011, and this year it cut another 40,000 troops along with 17,000 civilian personnel.
Consequently, those who left the military between 2008 and 2011, entered a weakened economy and job market.
In November 2012, President Obama signed off on two new tax credits for companies that hired returning veterans. The Returning Heroes Tax Credit and the Wounded Warrior Tax Credit gave employers tax breaks for hiring veterans and veterans with service-related disabilities.
The Administration also set up several websites to connect veterans and employers. It met with corporate leaders and encouraged them to hire former military. As a result, a number of major employers, including JP Morgan Chase, Delta Airlines, ManTech International, and Pitney Bowles, joined the 100,000 Jobs Mission, created to get veterans back to work.
"Besides extended tax credits, these companies quickly learned that there are numerous benefits to placing former military to the payroll. They have proven leadership skills, ability to work in a team, strong work ethic, integrity, and respect for procedures. Most workers' day-to-day job tasks can be taught. It's these soft skills that are difficult to teach and what makes veterans so valuable," said John A. Challenger, chief executive officer of Challenger, Gray & Christmas.
---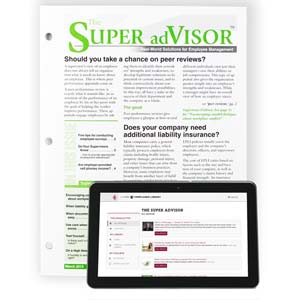 The SUPER adVISOR™ newsletter contains four pages dedicated to the HR manager and a corresponding four-page pullout dedicated to the needs of supervisors.
---
J. J. Keller's FREE HRClicks™ email newsletter brings quick-read human resources-related news right to your email inbox.