Stakeholders voice concerns, recommendations at OSHA's PSM meeting
Posted October 14, 2022
OSHA's October 12 stakeholder meeting on proposed updates to its Process Safety Management (PSM) rule drew representation from a range of industries, including chemical warehousing; unions; agriculture; chemical distribution, trade, and transport; PSM consultants; and previous Chemical Safety Board professionals.
Common issues and concerns among stakeholders included:
The need to assess and have supporting data for changes to Appendix A and mixtures;
The need for more regulation and support for the meat and poultry industry; and
The need for more accountability on the part of contractors so liability is not constantly shifting.
Stakeholder recommendations included using Cal/OSHA's PSM as a sounding board and example of effective PSM and aligning EPA's Risk Management Program (RMP) with PSM.
OSHA says next steps include:
Continuing research and data/comment evaluation,
Continuing to coordinate with EPA, and
Working toward a proposed rule.
Written comments on the potential changes to the rule must be submitted by November 14, 2022, in docket number OSHA-2013-0020 at regulations.gov.
This article was written by Rachel Krubsack of J. J. Keller & Associates, Inc.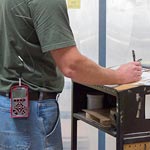 Looking for more on workplace safety?
Get the information and products you need to stay on top of industry changes and comply with regs.