EPA Finalizes Rule to Simplify Toxics Release Inventory Reporting and Improve Data Transparency
Posted October 26, 2022
EPA has formally defined "parent company" for Toxics Release Inventory (TRI) reporting purposes. The definition of "parent company" within TRI reporting regulations is the highest-level company with the largest ownership interest in the TRI facility as of December 31 of the reporting year.
Under this rule, EPA is clarifying existing guidance and providing reporting clarity for facilities, including those owned by corporate subsidiaries, multiple owners, foreign entities, or that are publicly owned. EPA is also requiring facilities to report their highest-level foreign parent company, when applicable, beginning with Reporting Year 2023, for forms due by July 1, 2024 and for each subsequent reporting year. With this rule, the definition of "parent company" for TRI reporting is more closely aligned with definitions under other reporting programs, including the Chemical Data Reporting (CDR) rule (40 CFR part 711) and the Greenhouse Gas Reporting Program (GHGRP) rule (40 CFR part 98).
EPA is also requiring facilities reporting to TRI to use standardized naming conventions for parent company reporting, as provided in the annual TRI Reporting Forms and Instructions (RFI). These naming conventions address common formatting discrepancies, such as punctuation, capitalization, and abbreviations.
This article was written by Mishka Binns of J. J. Keller & Associates, Inc.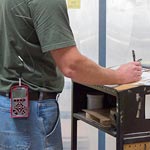 Looking for more on workplace safety?
Get the information and products you need to stay on top of industry changes and comply with regs.