Final rule allows DOL to fine employers that take tips
Posted October 8, 2021
Employers that take employee tips face fines of up to $1,100 per violation under a final rule from the Department of Labor (DOL).
The DOL announced publication of the Tip Regulations under the Fair Labor Standards Act (FLSA) final rule on September 23. The rule takes effect on November 23.
Under the rule, the DOL can fine employers that take tips earned by employees regardless of whether the violations are repeated or willful.
The rule allows managers and supervisors to contribute to a tip pool, although they may not receive tips from the pool. Managers and supervisors, however, may keep tips that they receive directly from customers when the tips are based on services they solely provide.
What about dual jobs?
This final rule did not cover the other key tip rule addressing dual jobs (aka the "80/20" rule). The dual jobs provision was open for public comments through August 23.
If (or more likely when) the dual jobs portion of the tip rule gets finalized, it will almost surely limit the amount of non-tip producing work, such as washing dishes, that a tipped employee could perform when an employer is taking a tip credit.
The DOL will announce the details on dual jobs in a separate final rule.
This article was written by Terri Dougherty of J. J. Keller & Associates, Inc.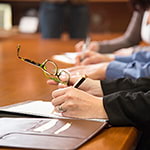 Looking for more on HR compliance?
Get the information and products you need to stay on top of industry changes and comply with regs.