American Transportation Research Institute releases trucking industry's top 10 concerns
Posted October 29, 2021
The American Transportation Research Institute (ATRI) released its top-ten list of transportation industry concerns, and driver issues, including driver shortage, retention, and compensation, ranked as the top three issues faced by the industry.
Driver shortage has been the top-ranked industry concern for five years running. Compensation and truck parking tied for the number one concern among drivers who completed the survey.
New to the list this year, taking the number 10 spot, is the shortage of diesel technicians. Lawsuit abuse reform is a growing concern in the industry, reflected in its rise to fourth place on this year's list, up from seventh place last year.
This year's complete list, ranked, is as follows:
Driver shortage,
Driver retention,
Driver compensation,
Lawsuit abuse reform,
Truck parking,
Compliance, Safety, Accountability (CSA)
Detention/delay at customer facilities,
Transportation infrastructure/congestion/funding,
Insurance cost/availability, and
Diesel technician shortage.
The rankings are based on survey results from over 2,500 industry stakeholders across North America. Respondents were asked to rank their top three concerns from a list of 30 critical issues.
This article was written by Jen Loomis of J. J. Keller & Associates, Inc.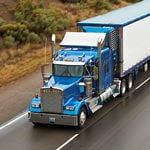 Looking for more on transportation safety?
Get the information and products you need to stay on top of industry changes and comply with regs.