UCR enrollment open for 2021
Posted October 1, 2020
The Unified Carrier Registration (UCR) enrollment period for 2021 is open from October 1, 2020 through December 31, 2020. This puts vehicle registration with the program back on track after several years of delays to the enrollment start date.
The cause of the delay was approval of the registration fees. The UCR board acknowledges that this has caused confusion and frustration on the part of motor carriers and law enforcement. Also noting that the approval process can take up to 12 months, the board has made changes to its process, creating a timeline that should allow fee approval each year by October 1.
'I thought we just paid'
If it seems as though you just paid your yearly fee, you may be right. Registration for 2020 didn't open until February 13. The COVID-19 pandemic further delayed the enrollment and enforcement period, giving carriers until July 1 to register.
While this déjà vu experience may be unpleasant or inconvenient, the process change put in place by the UCR board should alleviate the need to have to pay the fees in the future with such a quick turnaround.
Registration fees
The fees for the 2021 registration year remain the same as 2020, and are as follows:
| | |
| --- | --- |
| Number of commercial motor vehicles owned or operated | Fee |
| 0–2 | $59 |
| 3–5 | $176 |
| 6–20 | $351 |
| 21–100 | $1,224 |
| 101–1,000 | $5,835 |
| 1,001 and above | $56,977 |
This article was written by Michael Henckel of J. J. Keller & Associates, Inc.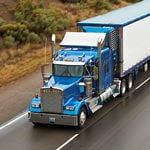 Looking for more on transportation safety?
Get the information and products you need to stay on top of industry changes and comply with regs.