Commercial drivers given more time to renew HMEs
Posted October 30, 2020
The Transportation Security Administration (TSA) is extending its previously issued COVID-19 exemption, which provides commercial drivers with additional time to renew their hazardous materials endorsement (HME).
The revised exemption is effective October 30, 2020, and remains in effect through December 31, 2020. The previous waiver was published on July 31, 2020, and was scheduled to expire on October 30, 2020.
Under this exemption, states may extend the expiration date of HMEs that expire on or after March 1, 2020, for 180 days, due to the challenges associated with the COVID-19 pandemic. It may be impracticable for some commercial drivers to appear in-person at a state licensing agency or TSA enrollment center for the collection of fingerprints and applicant information as a part of TSA's security threat assessment (STA) procedures. Without a new STA, TSA's regulations prevent states from renewing or extending the expiration of a driver's state-issued HME.
If a state grants an extension, a driver with an expired HME must initiate the process of renewing his or her STA for the HME no later than 60 days before the end of the state-granted extension. TSA needs at least 60 days to process a driver's application for STA renewal once it is submitted.
Drivers with an HME should confirm state-specifics concerning any extensions.
This article was written by Kathy Close of J. J. Keller & Associates, Inc.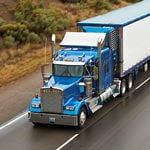 Looking for more on transportation safety?
Get the information and products you need to stay on top of industry changes and comply with regs.