'Old' DOT med forms no longer allowed, new ones on the way
Posted October 5, 2018
Not only will there be no grace period for recently expired medical exam forms, but another new version of the forms is under development, according to the Federal Motor Carrier Safety Administration (FMCSA).
On October 4, 2018, the agency issued a notice to medical examiners informing them that October 4, 2018, is the last day they can use drivers' medical examination forms and certificates showing an expiration date of 8/31/2018.
Though the FMCSA has historically granted a "grace period" during which old medical forms could still be used, the agency declined to do so, though the only change to the forms was the expiration date.
The FMCSA failed to seek re-approval of the forms from the Office of Management and Budget (OMB) until the date they expired, resulting in a rush to put the new versions into use.
Without notifying the public, the FMCSA made the new forms available in late September and, on October 4, notified examiners that it was the last day the 8/31/2018 forms could be used.
"Medical examiners must begin using the final approved forms with the 09/30/2019 expiration date as of today 10/04/2018 … to remain in compliance with the Federal Motor Carrier Safety Regulations," the notification states.
The expiration date appears in the upper right corner and indicates the date on which the agency no longer has legal authority to require use of the form. The new expiration date, as set by OMB, is September 30, 2019.
CDL drivers beware!
The sudden change in medical forms could harm CDL-holding drivers whose exams get recorded on expired forms. The FMCSA instructed state licensing agencies to accept medical cards with the 8/31/18 expiration date only if they were signed by the medical examiner on or before October 4, 2018.
Motor carriers must ensure that any driver medical exams performed after October 4, 2018, are documented on medical forms showing an OMB expiration date of 9/30/2019.
Another version is in the works
To add to the confusion, yet another version of the medical forms is in the works, the FMCSA announced.
Due to the creation of a new form to be used by insulin-using drivers seeking medical certification, all FMCSA medical forms and certificates have to undergo another round of review at OMB.
Once that review is complete, the medical exam form and certificate will get a new expiration date.
OMB is taking public comment on the new insulin form until November 19, 2018, so it will not be able to approve the forms until sometime after that date.
---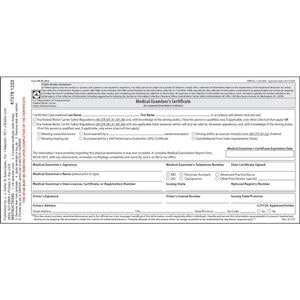 J. J. Keller's Medical Examination Certificate - Laminated helps you comply with 49 CFR §391.43 DOT medical card requirements. Pre-order new, compliant certificates now!
---
J. J. Keller's FREE Transportation SafetyClicks™ email newsletter brings quick-read safety and compliance news right to your email box.