Is your independent contractor driver really an employee?
Posted October 12, 2018
In its recent early sessions, the Supreme Court heard arguments on a case involving whether independent contractors in the transportation industry are really employees and have employee rights, including sidestepping arbitration and instead have their cases heard in court.
Currently, many transportation companies use independent contractors as drivers. These drivers who are engaged in interstate commerce may be required to have any disputes with the company go through arbitration, and not decided by a court. One trucker put this concept to the test when he claimed that he was an employee, and sued the company for failing to pay him for all hours worked. As an employee (and not an independent contractor) he could file his claim in court and not go through arbitration.
The employer, on the other hand, argued that the driver was an independent contractor, therefore, he could be held to arbitration, and not take his case to court.
The district court agreed with the driver that independent contractors could have cases taken to court, rather than forced to proceed only via arbitration. The case was appealed and the appeals court affirmed the lower court's decision. The basis behind the argument was whether the driver was, indeed, an employee.
Now the Supreme Court has taken up the case, and its outcome could have substantial effect. Depending upon how the high court rules, trucking companies might have a greater challenge labeling drivers as independent contractors. Companies might also be prohibited from requiring independent contractors in the transportation industry to settle issues via arbitration. Those drivers could sue in court, and the cases could even involve class actions. Currently arbitration agreements may (and often do) prohibit class actions.
Some legal professionals have suggested that at least a couple of the Supreme Court Justices are sympathetic to the driver's argument.
The transportation industry involves thousands of independent drivers. If these drivers can show that they are employees, the industry could see some sweeping changes, including a driver's ability to sidestep arbitration. In such situations, cases could stretch over time in the courts, placing new demands on transportation companies.
The case is New Prime v. Oliveira; 17-340. A decision is expected by June. We'll keep you posted.
This article was written by Darlene M. Clabault, SHRM-CP, PHR, CLMS, of J. J. Keller & Associates, Inc.
---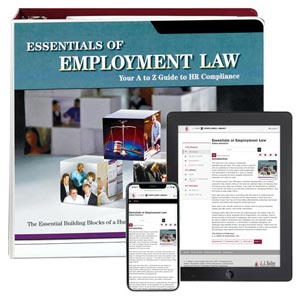 J. J. Keller's Essentials of Employment Law Manual covers more than 100 vital HR topics, including FMLA, ADA, HIPAA, FLSA, COBRA and more.
---
J. J. Keller's FREE HRClicks™ email newsletter brings quick-read human resources-related news right to your email inbox.