Here come the holidays (and related FMLA questions)
Posted October 4, 2018
After Adam left her office, Bessie began to wonder about the upcoming holidays and any attendance and pay issues, as Adam needed time off here and there for weeks to come. Although she figured she had time to deal with any upcoming workplace holiday issues, Adam's situation reminded Bessie that maybe she should look ahead at all employees who she knew would be out over one or more holiday periods. After reviewing the related data, she noticed more than a few employees needed intermittent time off all the way through the holiday period. Since she was still in the first year of her position handling such tasks, Bessie wanted to ensure she addressed any concerns, such as how the Family and Medical Leave Act (FMLA) played into it all.
Before we get up to our eyeballs in the holiday folderol, here are some FAQs regarding how the FMLA can affect holidays to help you (and Bessie) be prepared.
Q: Do we count holidays as FMLA leave?
A: Whether you count holidays as FMLA leave will depend upon whether the employee is taking the leave in full-week increments, or in less-than-full week increments (such as intermittent or reduced schedule leave). If an employee is taking FMLA leave in full week increments, the fact that a holiday occurs during one of those full weeks has no impact; you count the entire week as a week of FMLA leave. If, however, an employee is taking intermittent or reduced schedule leave, the holiday will not count as FMLA leave unless he or she was scheduled and expected to work on that day (or days).
For example, if an employee is on FMLA leave from November 19 through December 8, you would count all three weeks as FMLA leave, even though the Thanksgiving holidays occurred during one of the weeks of leave. On the other hand, if the employee is on leave only Monday and Tuesday of the Thanksgiving week, and is not expected to work on Thanksgiving, the holiday would not count as FMLA leave.
Q: Do employees on FMLA leave receive holiday pay?
A: Many employers require employees to work the day before and after a holiday or otherwise be receiving pay for those days. When it comes to the FMLA, you need to turn to your policies to determine if employees would receive the pay. Employees on FMLA leave are entitled to holiday pay based on your established policy for providing it when the employee is on other forms of leave. Often, an employee on a form of paid leave would receive holiday pay and, if an employee is using paid leave during otherwise unpaid FMLA leave, your policy regarding the paid leave would apply — the employee would receive the holiday pay.
Q: Do we count holidays toward an employee's 1,250 hours FMLA eligibility criteria?
A: No; the 1,250 hours is actual hours worked, so you need not include any time not actually working, such as time away from work on holidays.
Q: Do we count any time during which the company is shut down as FMLA leave?
A: Some employers, such as schools, cease operations for a while during the holidays, such as the period from December 24 to January 2. During this time, employees are not scheduled or expected to work. In such situation, the days the company activities have ceased do not count against an employee's FMLA leave entitlement.
---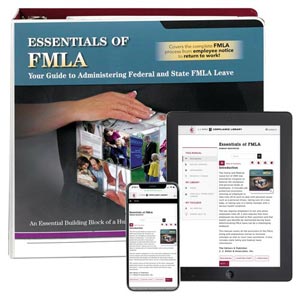 J. J. Keller's Essentials of FMLA manual helps HR pros understand and comply with the FMLA rules, control costs related to leave taken, and minimize the law's potential disruption to their organizations' operations.
---
J. J. Keller's FREE HRClicks™ email newsletter brings quick-read human resources-related news right to your email inbox.