But you weren't absent for more than three days
Posted October 11, 2018
Janet developed some health care issues, and her doctors were trying to figure out what was causing them. Cancer was one possible theory. The situation involved a number of appointments, and Janet asked for time off for them. Cassie, the company's HR Director, was not too familiar with the FMLA, and thought that maybe it was restricted to issues that required the employee to miss more than three days of work. Before taking any action, however, she decided to investigate further. Unfortunately, the regulations were not too specific on such situations. They did, however, indicate that:
"The term treatment includes (but is not limited to) examinations to determine if a serious health condition exists and evaluations of the condition."
This did not indicate whether such treatment to determine whether a serious health condition exists needed to involve a period of absence of more than three days.
One of the first things Cassie learned, was that the three days do not need to be the period of absence, but need to be the period of incapacity. An employee could be incapacitated during non-working days as well as working days. So, for example, if an employee who normally works Monday through Friday is incapacitated Saturday through Tuesday, he might miss only two days of work, but be incapacitated for four.
After more digging, Cassie learned that there is no threshold for treatments to determine whether a serious health condition exists. Janet's absences to help figure out her health issues would be protected by the FMLA no matter how long they were.
With this knowledge in hand, Cassie responded to Janet as she would many such leave requests — she provided an eligibility/rights & responsibilities notice and asked that she provide a certification supporting the need for leave.
In her investigation, Cassie also learned that any period of incapacity for pregnancy, chronic conditions, long-term conditions, or those that required multiple treatments would be FMLA leave. In these situations, the employee would not need to be incapacitated for more than three days. Cassie now felt much more confident in administering the FMLA for her company.
---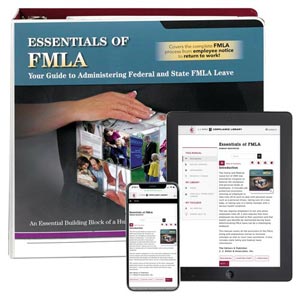 J. J. Keller's Essentials of FMLA manual helps HR pros understand and comply with the FMLA rules, control costs related to leave taken, and minimize the law's potential disruption to their organizations' operations.
---
J. J. Keller's FREE HRClicks™ email newsletter brings quick-read human resources-related news right to your email inbox.