New guide describes overlap of pesticide and drinking water regulations
Posted October 26, 2017
EPA released a "Quick Guide for Disinfectant Products for Drinking Water Use" as a broad overview of how pesticide regulations interact with the Safe Drinking Water Act (SDWA).
The new guidance covers the Federal Insecticide, Fungicide, and Rodenticide Act (FIFRA) product registration process and how FIFRA approval relates to the SDWA, specifically for disinfectant products intended to treat drinking water. Pesticide products that bear a drinking water disinfection label claim are regulated under FIFRA. These products may also be used by public water systems that are regulated under SDWA.
EPA says the guidance can be used to:
Compare the applicability and authority of FIFRA and SDWA;
Determine whether a product must obtain FIFRA registration; and
Identify SDWA standards that cover pesticide products used in drinking water disinfection.
FIFRA's main objective, according to EPA, is to protect human health and the environment through regulation of pesticide distribution, sale, and use. All pesticides distributed or sold in the U.S. must be registered by EPA, unless exempt. Registration ensures that pesticides are properly labeled and that, if used as described on their approved labeling, they will not harm the environment or human health.
The SDWA is the primary federal law that protects public drinking water supplies throughout the nation. Under the SDWA, Congress directs EPA to set national drinking water standards to protect public health but allows states, tribes and territories to seek EPA approval for primary enforcement responsibility to implement and enforce these regulations. EPA maintains oversight of the drinking water programs, including independent federal enforcement authority. The SDWA generally imposes requirements on public water systems, not on product manufacturers. As a result, there is no federal disinfectant product approval, registration, or license under the SDWA; although some states, tribes or territories may have such requirements.
---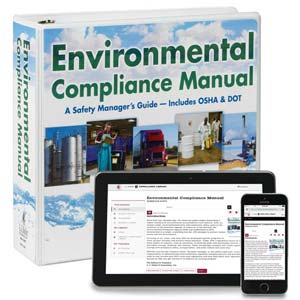 J. J. Keller's Environmental Compliance Manual covers environmental issues plus EPA, OSHA & DOT compliance info.
---
J. J. Keller's FREE Workplace SafetyClicks™ email newsletter brings quick-read workplace safety and compliance news right to your email box.