OSHA violations lead to criminal prosecution under the Clean Air Act
Posted October 18, 2016
The Department of Justice, U.S. Attorney's Office for the Eastern District of Texas and the EPA announced that four Texas companies pleaded guilty and agreed to pay a total of $3.5 million dollars for criminal violations of the Clean Air Act at two oil and chemical processing facilities in Texas.
The information filed in federal court in the Eastern District of Texas charged two of the companies with negligently releasing hazardous air pollutants after a tank explosion at their chemical and petroleum processing facility located in Port Arthur, Texas, on March 31, 2011. The explosion killed one worker at the plant and severely injured two others.
According to the factual basis of the plea agreement, the companies authorized two contract workers to perform welding or "hot work" on piping connected to a tank at their Port Arthur facility. Prior to beginning the welding, the defendants falsified the "hot work" permit issued to the workers and failed to properly drain, isolate and decontaminate the tank and connecting equipment as required by OSHA regulations. As a result, the welding work ignited vapors causing the tank to explode and release hazardous air pollutants to the environment. Because the defendants had failed to properly inspect and maintain the tank pursuant to generally accepted industry standards, the exploding tank collapsed spilling burning product which severely injured two workers. A third worker was killed when the rails and ladder from the collapsing tank fell on his head.
The information also charges two additional companies with failing to monitor leaks of ground-level ozone (smog) producing air pollutants at their chemical processing facility in Crosby, Texas, from 2008 until 2012. Pursuant to the factual basis, the defendants also admitted that they falsified records and reports for these Title V permit requirements to EPA and the Texas Commission of Environmental Quality certifying the facility was complying with the permit requirements.
The plea agreement requires the companies to pay a total of $3.3 million in criminal fines. In addition, the companies will make a $200,000 community service payment to the Southern Environmental Enforcement Network (SEEN). The payment will be used by SEEN for hazardous air release prevention and emergency response training to state and local environmental and law enforcement agencies.
---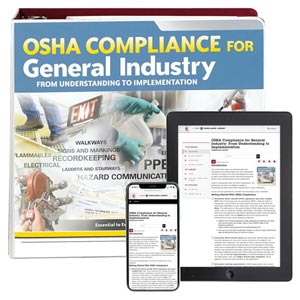 J. J. Keller's OSHA Compliance for General Industry offers ezExplanations™ summaries of workplace safety regulations and answers to OSHA compliance questions.
---
J. J. Keller's FREE Workplace SafetyClicks™ email newsletter brings quick-read workplace safety and compliance news right to your email box.