Are employers required to notify workers when their leave is ending?
Posted October 28, 2016
Arpita was nearing the end of her requested eight weeks of time off under the Family and Medical Leave Act (FMLA) for the birth of her child. In looking over her leave case, Juan, the company leave administrator, wondered if he was required to send Arpita a letter indicating that her FMLA leave was ending. If so, he also wondered, when would such a letter need to be sent? He pondered whether the letter would need to be sent only if Arpita had used up all 12 weeks of her FMLA leave instead of only eight. With all these questions, Juan decided to do a bit of research.
FMLA administration
The major employee communications/notices in FMLA administration include the eligibility/rights and responsibilities notice, the designation notice, and a certification form. The designation notice is generally used to communicate how much FMLA leave an employee has or will use for the particular qualifying reason. Many employers, however, choose to provide a letter to an employee on FMLA leave, indicating that the leave will soon be ending. Some even have set time frames in which to send such letters, such as three weeks before the leave will end. The designation notice, however, is generally provided at the beginning of leave. In some situations, employees will ask how much FMLA leave they have available during the leave period.
If it is not possible for you to provide the hours, days, or weeks that will be counted against the employee's FMLA leave entitlement in the designation notice, then you must provide notice of the amount of leave counted against the employee's FMLA leave entitlement upon the employee's request, but no more often than once in a 30-day period, and only if leave was taken in that period. This provision is one reason why you are to keep accurate records of FMLA leave.
The FMLA does not generally require employers to provide employees with an FMLA exhaustion letter. If, however, the information in the designation notice changes, such as the employee exhausts his or her FMLA leave entitlement, you must provide, within five business days of receipt of the employee's first notice of the need for leave subsequent to any change, written notice of the change.
To help keep the conversation going, particularly about how much leave to expect if you don't already know, you may also require employees to provide you with periodic status reports regarding when they will return to work. In response to such reports, you could informally remind employees how much FMLA leave they have left or available.
In Arpita's situation, she has not exhausted her 12 weeks of FMLA leave, so the information on the designation notice should not have changed. Therefore, there would be no need for a written notice of the change.
The FMLA does not, however, prohibit you from providing more information to employees regarding how much leave they have taken. When employees ask how much FMLA leave they have available at any given time, the calculation is usually a simple one. Some employers use software to have such information at hand at any given point in time.
If an employee will exhaust FMLA leave, informing the employee of when that would occur and offering a discussion of options should the employee not be able to return from leave taken for his or her own serious health condition, can help you comply with the interactive process requirement under the Americans with Disabilities Act, as well.
This article was written by Darlene Clabault of J. J. Keller & Associates, Inc.
---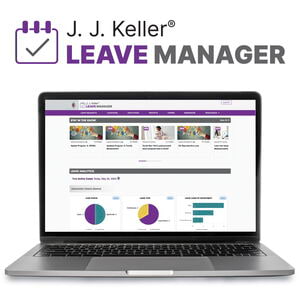 J. J. Keller® FMLA Manager™ Service makes leave tracking easier while complying with the latest federal & state regulations.
---
J. J. Keller's FREE HRClicks™ email newsletter brings quick-read human resources-related news right to your email inbox.