Benefit offerings increasingly used to recruit and retain employees, survey finds
Posted October 19, 2015
Faced with a competitive job market and stagnant wages, more organizations are turning to their benefit offerings. Health care coverage and retirement savings programs are among the programs being used to help recruit and retain prized employees, according to a recent study.
The 2015 Strategic Benefits Survey conducted by the Society for Human Resource Management (SHRM) found that 38 percent of respondents said their organization leveraged benefits to recruit employees at all levels during the past 12 months, a statistically significant increase from 26 percent in 2013 and 29 percent in 2012.
At a time when more than one-half of respondents said their organizations had difficulty recruiting highly skilled employees, 40 percent of respondents said their organizations used benefits to lure these hard-to-recruit employees during the past 12 months. This represents an increase of 10 percentage points since 2013.
To retain employees at all levels of their organization, one-third of HR professionals looked to benefits in the past 12 months, a statistically significant increase from 18 percent in 2013 and 20 percent in 2012.
In other findings, the survey results showed:
Health care
96 percent of organizations offered health care insurance plans.
For plan year 2015, respondents said their organization is paying on average 76 percent of employees' total health care costs.
46 percent of respondents said their organization increased the share employees pay for health care this plan year over last plan year.
72 percent had not considered providing subsidies to their employees to purchase health care insurance through a private exchange.
Wellness
69 percent said their organizations offered a wellness program, resource or service.
52 percent indicated employee participation in wellness programs increased year over year, as has been the case since 2012.
Flexible work arrangements
48 percent of HR professionals indicated their organization provided employees with the option to use flexible work arrangements.
29 percent of employers that do so reported an increase in employee participation over last year.
Assessment and communication of benefits
Few organizations use social media to communicate information about benefits to their employees. This may change, as 9 percent said they plan to start using social media as a benefits communication tool within the next 12 months.
---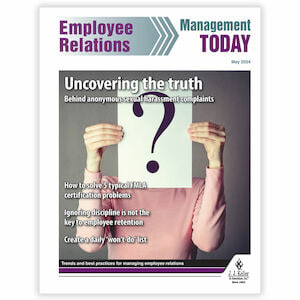 The SUPER adVISOR™ newsletter contains four pages dedicated to the HR manager and a corresponding four-page pullout dedicated to the needs of supervisors.
---
J. J. Keller's FREE HRClicks™ email newsletter brings quick-read human resources-related news right to your email inbox.