OSHA expands severe violator criteria
Posted September 19, 2022
OSHA has expanded the criteria for placement in its Severe Violator Enforcement Program (SVEP). The new criteria include violations of all hazards and OSHA standards and will continue to focus on repeat offenders in all industries. Previously, an employer could be in the program for failing to meet a limited number of standards. The changes will broaden the program's scope with the possibility that additional industries will fall within its parameters.
Specifically, the updated criteria include:
Program placement for employers with citations for at least two willful or repeated violations or who receive failure-to-abate notices based on the presence of high-gravity serious violations.
Follow-up or referral inspections made one year – but not longer than two years – after the final order.
Potential removal from the SVEP three years after the date of receiving verification that the employer has abated all program-related hazards. In the past, removal could occur three years after the final order date.
Employers' ability to reduce time spent in the program to two years, if they consent to an enhanced settlement agreement that includes use of a safety and health management system with seven basic elements in OSHA's Recommended Practices for Safety and Health Programs.
The updated program instruction replaces the agency's June 2010 instruction and remains in effect until canceled or superseded.
OSHA's SVEP is intended to focus enforcement efforts on significant hazards and violations by concentrating inspection resources on employers that have demonstrated a recalcitrance or indifference to their OSH Act obligations by committing willful, repeated, or failure-to-abate violations of OSHA requirements.
This article was written by Rachel Krubsack of J. J. Keller & Associates, Inc.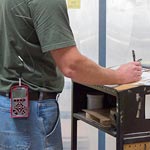 Looking for more on workplace safety?
Get the information and products you need to stay on top of industry changes and comply with regs.