Federal contractor vaccine mandate injunction narrowed
Posted September 2, 2022
In late August, the 11th Circuit Court of Appeals narrowed the scope of the nationwide injunction against the federal government's contractor vaccine mandate. The injunction, decided in December 2021, barred enforcement of the federal government's COVID-19 federal contractor vaccine mandate under Executive Order 14042. With the injunction now narrowed, the federal government could begin to enforce it for those no longer included in this or another injunction. This particular injunction now affects only the states of Alabama, Georgia, Idaho, Kansas, South Carolina, Utah, and West Virginia, and the Associated Builders and Contractors trade association.
This development could cause administrative challenges for covered contractors and subcontractors no longer under the injunction, should the federal government begin to enforce the mandate. The narrowing, did not, however, affect other, state injunctions, so it's reach is limited.
Injunctions against the vaccine mandate still exist for contractors in the states of Alabama, Alaska, Arizona, Arkansas, Florida, Georgia, Idaho, Indiana, Iowa, Kansas, Kentucky, Louisiana, Mississippi, Missouri, Montana, Nebraska, New Hampshire, North Dakota, Ohio, South Carolina, South Dakota, Tennessee, Utah, West Virginia, and Wyoming. Those injunctions, however, were not nationwide.
Some of these cases (including in Alabama, Michigan, Texas, and Utah) were put on hold pending the Georgia/nationwide decision. Therefore, contractors in those states will need to tread carefully. Other trade associations could, however, follow in the footsteps of the Associated Builders and Contractors in pursuing further injunctions.
The court also ruled that entities bidding for a contract with any of the plaintiffs in the bidding pool during the solicitation process do not have to comply with the vaccine mandate.
In another wrinkle to the story, the CDC's guidance regarding when employees can be at work no longer differentiate between vaccinated and unvaccinated.
This article was written by Darlene Clabault of J. J. Keller & Associates, Inc.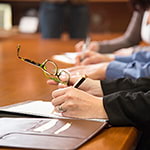 Looking for more on HR compliance?
Get the information and products you need to stay on top of industry changes and comply with regs.